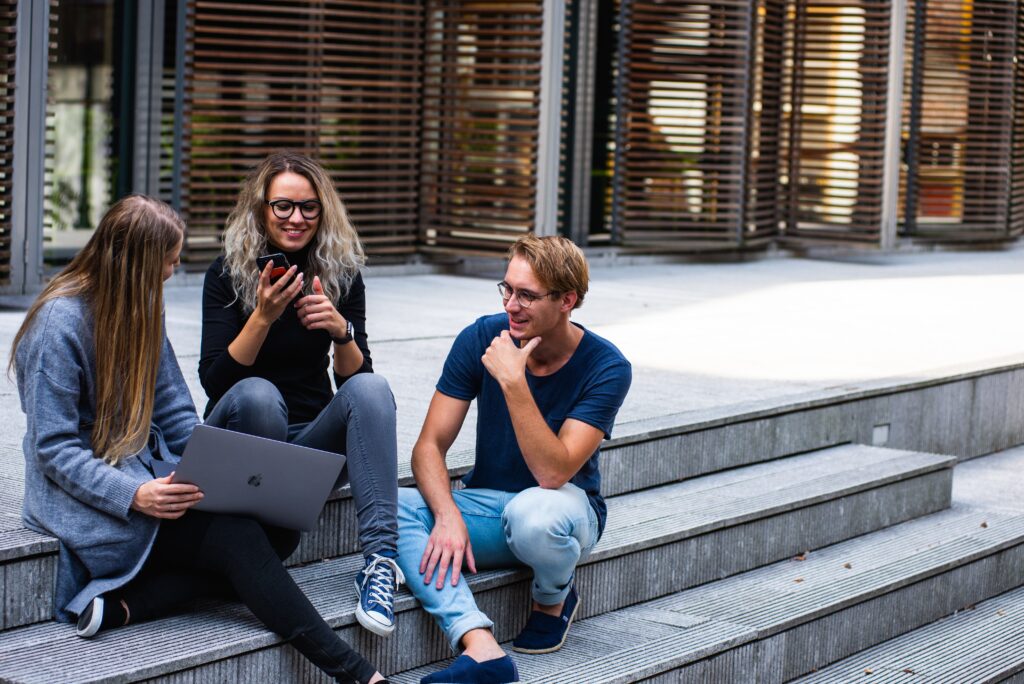 Despite what many may think, introverts actually do enjoy getting out and enjoying the world. It just has to be for the right reason and activity.
With that in mind, this post will cover 6 activities that are great for introverts! You can do these activities with others (introverts or extroverts) or by yourself. The idea is that they're all low-key environments and situations.
This means that you can enjoy yourself as an introvert, without being completely drained by what's going on around here.
Here are 6 awesome activities for introverts!
Time outdoors
Nature and introverts are always a great combination! It removes introverts from the hustle and bustle of the extroverted world.
This can be a great way for introverts to recharge, but when you add a few people to the mix, it becomes an awesome environment for some meaningful socializing!
You can go sit in a park with coffee or tea with a small group, or you could consider going for a walk, hike, or picnicking in a more nature-based location.
These activities encourage one-on-one or small groups, which are typically more preferable for introverts. It also creates an environment for deeper and more meaningful conversations, which again, are more preferred to introverts than small talk or surface-level conversations.
Visit busy places in their off-season
This is one of my absolute favorites!
I love the zoo in the winter when there's snow on the ground. And the beach in the fall or spring, when it's a little cooler but it's warm enough to enjoy. I love visiting ski locations in the summertime and going to the movies at 11 AM on a weekday.
Of course, this may mean you can't do all of the traditional activities (I'm definitely not skiing in the summer). However, this ultimately lends itself well to less crowded environments, which means introverts will often get more out of the experience.
In my experience, you also get more individualized attention from employees if crowds are really low. This leads to more of those meaningful connections that introverts love.
Almost any location or activity has a period of time where it's open but doesn't see very much foot traffic. If you can figure out when that is, you can turn almost anything into an introvert haven.
Something creative
This can be a fun, low-key activity that allows introverts to dig into their creativity!
Introverts are said to be particularly creative, in part due to their rich inner world. Any type of creative activity can be a good form of expression and give introverts the opportunity to get out of their heads.
This is also typically something that's done with just one other person, or with a small group, which makes it a big win.
Additionally, this can also be a great activity if you're looking for something to do with people you don't know overly well. Small talk is torture for introverts. This type of outing means gives you a shared experience to talk about and/or a reason to lapse into silence without it being super awkward.

Visit a library or bookstore
A lot of introverts are readers. This is something else that feeds our curiosity and rich inner world. It's also a great activity that we can do by ourselves.
Because of this, getting a new book to read can often be a fun outing. These environments typically aren't too loud or crowded, which makes them introvert-friendly.
Additionally, events like book signings hosted by a library or bookstore are a great way for introverts to connect over stories and topics they care about.
Libraries and bookstores also often offer other speaking events and informational talks. This can be another great way to feed your inner world–especially if it's on a topic you're passionate about.
These types of events typically run for a set period of time, so introverts are less likely to get drained.
Meals outdoors
One gift of the pandemic for introverts is outdoor dining. This may have been offered in the past, but circumstances forced it to radically expand. And in my experience, most places have left these expansions in place.
This is great for introverts because it gives us the option to enjoy a meal out without being forced to deal with the often hectic and draining environment of a restaurant.
Naturally, this will only be as peaceful as your outdoor environment. If your preferred establishment is on a busy road, it may not be as peaceful as you'd like.
But in most cases, this option gets you away from a loud, busy atmosphere, which would be preferable to most introverts.
And of course, you can always take this a step further and go the picnic route if you really want to amp up the experience!
Household gathering
Never discount the appeal of gathering in a small group in someone's house. The size of the group is important here. It's the reason we're calling this more of a "gathering" than a "party."
Gatherings are typically made up of a small enough number of people for some real connections and conversions to take place. They're also often quieter and cozier. And it's also an environment that can be more or less controlled.
If things end up lagging, you can always put on a movie, find a game to play, or add any other activity that the host has to offer.
All of this together adds up to an awesome outing that most introverts would enjoy.
Of course, the success of this will depend on the people at the gathering, so this is probably better reserved for people you're already at least mildly comfortable with.
Looking for more tips on how to manage your introverted life?
If you want more tips and tricks on how to manage your introvert life and build plenty of healthy introvert habits, check out the Introvert Life Guide!
This guide was designed to help you build the introvert life of your dreams. And it's full of plenty of tips, tricks, and ideas to help you create an introvert life that's uniquely yours!
It will also help you embrace your introverted nature and build a life to help you thrive!

For more introvert life tips, check out the other introvert posts!
Sound off: What are your favorite introvert activities? Tell us about it in the comments!