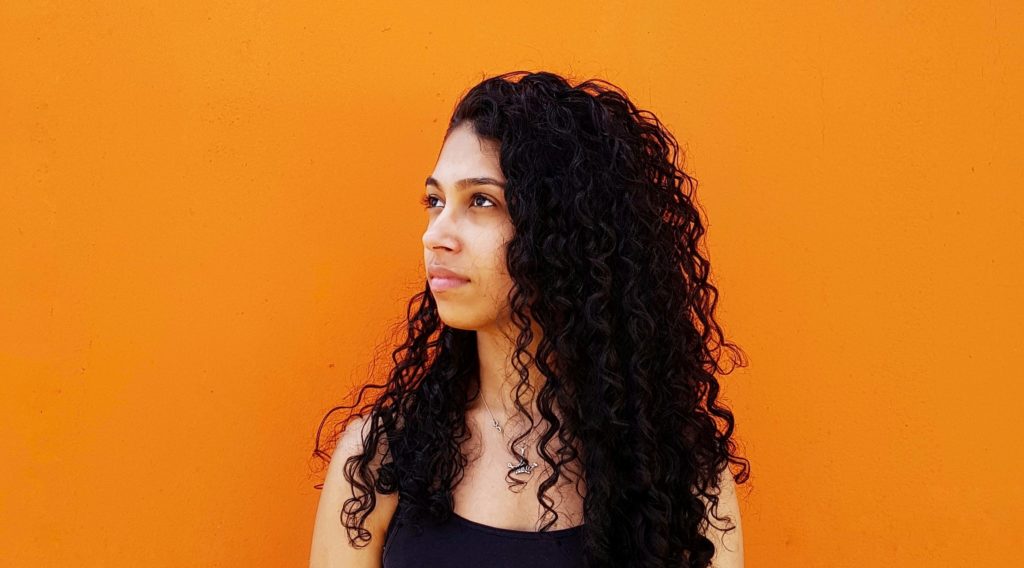 I absolutely love the Curly Girl Method and everything it's done for my curly hair. But I also know it can be A LOT. 
This is especially true when you're in the early stages and the sheer amount of rules, guidelines, and general information can get a bit overwhelming.
Fortunately, the Curly Girl Method doesn't have to be complicated if you don't want it to be! In fact, it's very possible to adapt the Curly Girl Method to fit your life. 
With that in mind, here are eight ways you can make the Curly Girl Method work for you.
Side note: This page does contain affiliate links, which means if you purchase something using the product links on this page, I may get a small commission. This comes at no extra cost to you and helps keep this site running. Thank you!
Start with the absolute basics
If you dive into the deep end of the online Curly Girl community (like I did at first), it can be easy to believe that the Curly Girl Method is complicated. But it turns out that's not necessarily true. 
After months of struggling with information overload, I read the Curly Girl Handbook by Lorraine Massey, which is where the Curly Girl Method came from. 
There, I learned that in order to be following the Curly Girl Method, all you have to do is avoid sulfates, silicones, drying alcohols, and heat, and follow a care routine that's centered around conditioning and gel as a styler. 
It can really be that simple.
You personally may need to add more elements or avoid more ingredients based on your own hair type, needs, and habits, but any additions are going to be more personalized and may not be true for everyone.
Starting small like this takes a lot of the pressure off and gives you more flexibility. 
Layer in more when you're ready
There will likely come a time when you'll want to deep condition, refresh, and sleep with your hair in a protected style, but you don't have to worry about those things right away if you don't want to. 
Let yourself get used to your new products and wash routine first. 
Once you're used to that, add in a new step. Growing your hair care routine like this makes the process a lot more manageable, which makes it easier for you to maintain long term.
Work each hair problem one at a time
Your hair will likely have its fair share of issues as you move through your curly hair journey. It's likely that you may have more than one hair problem at once. 
The Curly Girl Method can easily get overwhelming if you try to solve every issue at once. Instead, focus on your most pressing and/or uncomfortable problem first, then move on to the next one. 
If you try to solve multiple problems at the same time, it may be harder to identify what solution really addressed each issue. 
It may take a little longer to get your hair in line this way, but remember, we're focusing on the big picture. If you can concretely say you know what solved your issues, you're in a better position to continue to grow and adapt your hair routine as your hair evolves and gets healthier. 
Learn to listen to your hair
I talk about this a lot in my No-Stress Guide to the Curly Girl Method because I really think this is one of the biggest elements to uncovering how to make the Curly Girl Method work for you. 
It's also what's going to help you solve your hair problems as effectively and efficiently as possible.
Any problem you may have is, ultimately, your hair trying to tell you something. 
Your frizz likely means you need more moisture. Flat curls may mean you need protein or a trim. Flakes may mean a scalp or product issue. These are just a few examples.
Just because a product or technique worked for someone else doesn't mean it'll work the same way for you. 
Be open to other people's successes and techniques, but really pay attention to how your hair responds. Learning to understand and prioritize your hair's own unique needs is one of the fastest ways to success.
You don't have to do what the internet tells you to do 
I'm a Curly Girl blogger, so I really love how the internet has given the Curly Girl Method a place to grow and evolve. 
But I think sometimes the internet can sometimes get a little too definitive about the "right" way to follow the Curly Girl Method. If you ask me, there is no right way.
After all, it's your hair. If you want or don't want to do something, that's entirely your call.
Use the internet as a resource, but don't feel like you have to follow any one set of rules. 
Consider your lifestyle and ultimate hair goals
To me, the ultimate goal of the Curly Girl Method is to create fabulous curls in a way that fits your life.
There's going to be a bit of a learning curve. But once you get past that, following the Curly Girl Method should make caring for your curly hair easier, not harder. 
If you feel like the Curly Girl Method is too restrictive or complicating your life, I think you should feel free to change or modify any guideline that isn't working for you. 
Maybe you don't have the time to deep condition that often (or at all). In that case, you may just decide a little frizz isn't that big of a deal.
If you're avoiding sulates, silicones, drying alcohols and heat, and caring for your hair with conditioner and gel, you can say you're following the Curly Girl Method. 
Odds are, your hair will look better and be healthier and easier to care for than it has in the past even if you just do the bare minimum. 
Don't be afraid of all of the information
Yes, the information can be overwhelming. But it's a good idea to try to wade through it, even if you have to go slowly. 
This can help you really understand how your curly hair works and why Curly Girl Method guidelines are in place. From there, you can better adapt the Curly Girl Method to meet your needs and lifestyle. 
You'll be able to make a more informed decision about which guidelines you want to follow, which ones you don't, and have a better understanding of how certain ingredients and techniques may impact your hair. 
Don't compare your hair journey to anyone else's
This is the biggest way to make the Curly Girl Method work for you. Remember that it really is all about YOU! 
Everyone is coming into this with different levels of damage and dehydration. Not only that, the time, energy, and money we all have to put into our hair is going to vary. 
Let other people's Curly Girl Success stories and pictures inspire you, but don't compare your progress to theirs. 
Your only concern should be addressing your hair problems and creating curls you love in the way that works best for you. This is the surest path to your own Curly Girl success.
Looking for more guidance on your curly hair journey?
For beginners
If you're new to curly hair care and looking for some help, you should check out the No-Stress Guide to Curly Hair Care!
After spending two years learning and caring for my curly hair, I wanted to create my own, in-depth guide to help fellow curlies create incredible curls in the easiest way possible. 
It took me a while, but I eventually found an approach that helped me create a curly hair routine that fits into my life in the simplest way possible. And now I want to help you do the same!
For more intermediate/advanced guidance
If you've been on your curly hair journey for a while but still have some struggles, check out Curly Hair Problems!
After spending hours scouring the internet looking for solutions to my own curly hair problems, I found myself wishing for an easier, more comprehensive guide to the most common problems.
So that's what I created!
Curly Hair Problems offers you 78 total solutions to the five most common curly hair care problems, including frizz, curl clumps, limp curls, product issues, and scalp issues.
Sound off: What are some ways you make the Curly Girl Method fit your life? Tell us about it in the comments!