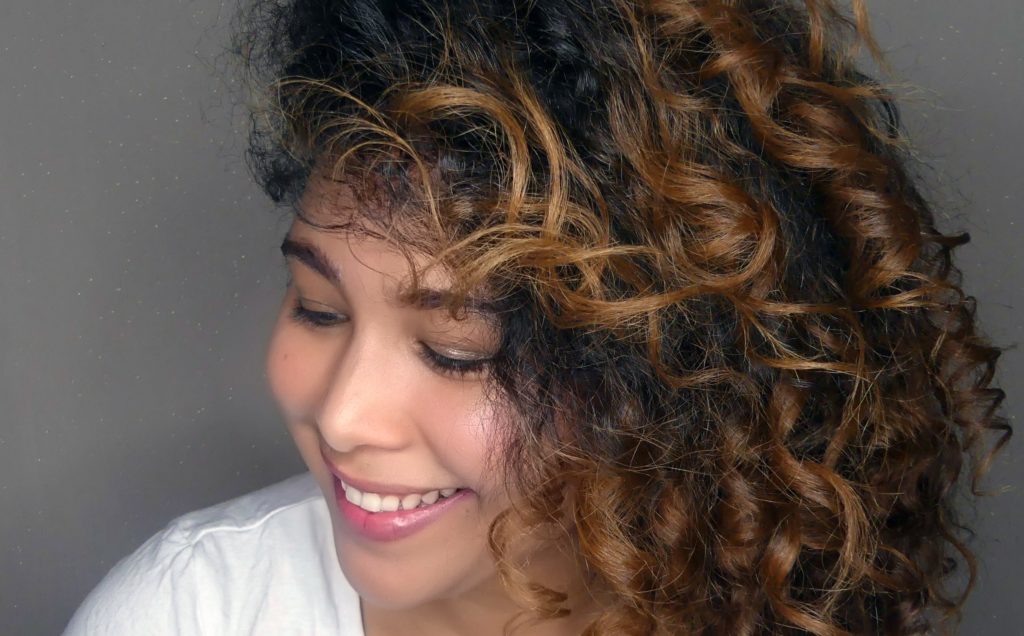 If you're new to the Curly Girl Method, you may be finding that it comes with its own lingo.
With that in mind, this post aims to breakdown fifteen of the most common terms of the Curly Girl Method.
This page does contain affiliate links, which means if you purchase something using the product links on this page, I may get a small commission. This comes at no extra cost to you and helps keep this site running. Thank you!
Sulfate
A Sulfate is a harsh cleanser found in most shampoos.
Sulfates also strip your hair of a lot of natural, moisturizing oils, which is a problem for Curly Girls.
These moisturizing oils start at the scalp and work their way down the hair, keeping the hair moisturized, shiny, and helping to limit frizz. 
Stripping your hair of its natural oil is removing a natural source of moisture, which leads to drier, frizzier, unhealthy hair.
As a result, avoiding sulfate shampoos is a key component of the Curly Girl Method.
Silicone
Silicones are a main ingredient in a lot of curly hair products because they help with frizz control. However, they can be heavy on the hair and lead to breakage and long-term damage. 
Beyond that, in order to remove silicone build-up from your hair, you need to wash with a sulfate shampoo, which brings us right back to removing moisturizing hair oils.
But it's worth noting that there are water-soluble silicones, which are okay to use because they don't require a sulfate to wash them out.
Alcohols
There are drying alcohols, and there are moisturizing alcohols.
Products with drying alcohols should be avoided, as they dry out your curls.
However, products with moisturizing alcohols are good to use!
For all products, you can use isitcg.com to check and see if it contains sulfates, bad silicones, or drying alcohols.
You may also find that products are considered "not approved" for ingredients other than sulfates, silicones, drying alcohols. Depending on your hair type, these ingredients may build up and need a sulfate shampoo, but it's ultimately your call.
Co-Wash
The act of washing your hair with conditioner.
This concept comes from The Curly Girl Handbook, which is how the Curly Girl Method was born.
Using conditioner instead of shampoo sufficiently cleans the scalp for a lot of curly girls, while leaving more of your natural moisturizing oils in your hair.
Thinner, botanical conditioners usually make for ideal co-washes.
This is the preferred method of washing in the Curly Girl Method, but it doesn't work for everyone.
Many curly girls wash their hair with a sulfate-shampoo regularly or alternate between a sulfate-free shampoo and co-washing.
Rinse Out
A rinse out is the conditioner you use in the shower and rinse out before the end of your shower.
This conditioner is usually a little heavier and more hydrating than a co-wash.
Squish to Condish
This is the act of cupping your conditioned curls in your hands and gently pressing them up towards your scalp while you squeeze your hair.
This helps your curls absorb the conditioner and water.
However, the biggest benefit of this technique is that it helps encourage your natural curl pattern.
Finger Detangling
Brushes are to be avoided at all costs when you follow the Curly Girl Method.
However, we still want to make sure that our hair gets good and detangled. The most gentle and curl-friendly way to go about this is with finger detangling.
In the shower, when your hair is wet and full of conditioner, gently work your fingers through your hair and detangle any knots, paying special attention to the nape of the neck.
It's usually, best to start at the bottom of the hair and work your way up.
You can also use a wide-tooth comb if you'd prefer, but ideally, you should still use the comb in the shower on wet hair that's full of conditioner.
Leave-in
A leave-in refers to a leave-in conditioner that you apply to your hair after your shower.
This can be a product that was specifically designed to be a leave-in conditioner, or it could be some of your rinse-out or co-wash.
Alternatively, you can simply stop short of rinsing out all of your rinse-out conditioner and leave some of that in your hair as your leave-in.
Curl Cream
If your hair is dryer, you may need or want an extra moisturizing styling product, such as a cream.
Curl creams add more moisture, which can help create a stronger, longer lasting curl.
Gel
Gel is the staple styling product of the Curly Girl Method.
Gel locks moisture into the hair as it dries, and helps hold the curl shape throughout the day.
You may need a light hold gel or a hard hold gel depending on your hair type.
Scrunch
This is one technique to apply your hair products.
After you shower, spread your product evenly over your hands. Then with your head tilted to the side or upside down, gather the ends of your curls in your hands and scrunch upwards to the scalp.
This may be all you need to evenly distribute your products.
Praying Hands
This is another technique for applying hair products.
It's great for curly girls with thicker hair or when scrunching alone doesn't seem to distribute the product as fully or evenly as desired.
Like with the scrunching technique, you start right after your shower by spreading the product evenly over your hands. Then, tilt your curls to the side, or upside down.
Next, starting towards the root, sandwich your curls between your hands (your hands should look as if they are in prayer), and smooth the product down to the tip of your curls.
Then, use the scrunching technique to encourage the curl pattern.
Gel Cast
When the hair dries with gel, it often creates a hard, crunchy exterior called a gel cast.
This is a good thing. The gel cast is protecting your hair as it dries and holding moisture in your hair.
This is what will give you fabulous curls that last all day!
Scrunch Out the Crunch
While the gel cast is exactly what you want when your hair is drying, it isn't meant to be a part of your style.
Gel is a two-step process. You apply the gel to protect your hair while it dries. Then, once your hair is completely dry, you should break that gel cast up!
When you do, you should find curls that are soft, hydrated, and frizz-free.
To break up that gel cast (a.k.a "the crunch"), tip your head to the side or upside down. Then gently gather your curls at the tips and scrunch up toward the scalp, breaking up the gel cast as you go.
This process is what curly girls like to call "scrunch out the crunch" or SOTC.
Diffuse
While air-drying is the idea curly girl drying technique, it's not always practical. Since a key component to the Curly Girl Method is avoiding heat, you don't want to blow dry your hair, however you can diffuse on a low heat setting.
Diffusing involves attaching a diffuser to your blow dryer, dropping your hair inside your diffuser, then pressing the diffuser to your scalp. You can then use a low heat and speed settings to dry your hair.
For more on how to diffuse, check out this video!
Pineapple
Pineappling means to loosely pile all of your hair on top of your head. This is a recommended sleep style for curly girls to protect your curls from breakage and getting squashed overnight.
It's also a recommended style for workouts.
Looking for more guidance on your curly hair journey?
For beginners
If you're new to curly hair care and looking for some help, you should check out the No-Stress Guide to Curly Hair Care!
After spending two years learning and caring for my curly hair, I wanted to create my own, in-depth guide to help fellow curlies create incredible curls in the easiest way possible. 
It took me a while, but I eventually found an approach that helped me create a curly hair routine that fits into my life in the simplest way possible. And now I want to help you do the same!
For more intermediate/advanced guidance
If you've been on your curly hair journey for a while but still have some struggles, check out Curly Hair Problems!
After spending hours scouring the internet looking for solutions to my own curly hair problems, I found myself wishing for an easier, more comprehensive guide to the most common problems.
So that's what I created!
Curly Hair Problems offers you 78 total solutions to the five most common curly hair care problems, including frizz, curl clumps, limp curls, product issues, and scalp issues.
Sound off: Is there a term missing you'd like to know more about? Tell us about it in the comments!