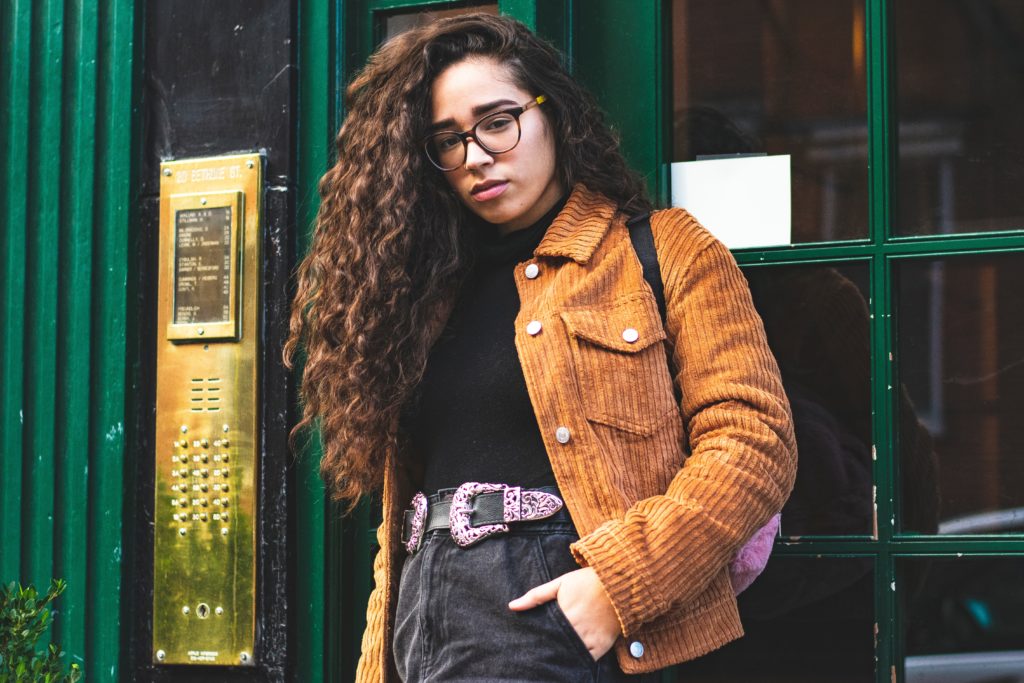 In April of 2020, I'll be able to say that I've been following the Curly Girl Method for two years and blogging about it for one.
In this time, I've come across my share of frequently asked questions. Some were also my own when I first started the Curly Girl Method. Others, I've gotten in the comments from blog readers.
So I thought I'd do a post that covers the most common FAQs I've come across. I'd like for this post to continue to grow, so if you've got a question you don't see here, feel free to leave it in the comments and I'll update this post when I can!
Here are my top frequently asked questions for the Curly Girl Method.
Side note: This page does contain affiliate links, which means if you purchase something using the product links on this page, I may get a small commission. This comes at no extra cost to you and helps keep this site running. Thank you!
This seems like a lot. Where do I start?
I have four posts that cover the basics of the Curly Girl Method.
First is the Curly Girl 101 post, which goes over the basic principles of the method.
The second breaks down 15 key terms of the Curly Girl Method.
The third is a quick start guide, designed to give you the most simplified, basic version of the Method for when you're just starting out.
The fourth is a more detailed guide to the Method that you can add on when you're ready.
If all of that still seems like too much, the most important thing to remember that the key elements to the Curly Girl Method are avoiding sulfates, silicones, drying alcohols, and heat.
Start with those four elements and add on when you're ready.
How long is the transition?
This will ultimately vary based on your hair type, how dry/fried your hair is, and how much oil your scalp is used to producing.
In my case, I didn't find the transition period to be all that bad. I think a big reason for this is my scalp tends to be dry, which can be its own problem, but in this case it meant that my hair was never overly oily or greasy.
I also didn't blow dry or regularly apply heat to my hair, so my curl pattern found itself pretty quickly. My biggest problem was how dry my hair was from years of under-conditioning.
One way you can ease into the Curly Girl Method is to back off of shampooing slowly. First, keep your regular wash schedule, but switch to a sulfate-free shampoo. Then gradually cut back how frequently you wash.
This was also part of my approach. It may have made the transition last a little longer, but my hair was pretty consistently presentable during that time.
Is it a lot of work?
There is a bit of a learning curve in the beginning. It can take some patience and trial and error to find the products and techniques that work well for your hair.
But in the long run, I've found it makes caring for my curls a lot less work and takes a lot less time than it used to.
However, it took me about 6-9 months to reach this point, and even now, I still have to pay attention to my hair and make alterations as it changes. So if you're super impatient, this may not be for you.
But on the whole, I never imagined my hair could be so easy to care for or that I could be able to expect it to look good day in and day out.
Is it expensive?
Honestly, it's as expensive as you want it to be. There are more expensive products that people swear by, but it's absolutely possible to follow the Curly Girl Method using only inexpensive drugstore products.
In fact, that's what I do!
If you want to check out some inexpensive products, here are my favorite shampoos and conditioners, my favorite styling products, and my current affordable products.
Side note, the beginning can get expensive as you try to find products that work for you. This is why I always like to point out that most drug and beauty stores will take hair products back if they've only been used a few times.
So, check return policies before you buy and try to make purchases from these types of stores. This way, if you don't like a product, you can take it back.
What products should I start with?
I have a whole post with my recommended inexpensive starter products. Most I've used personally, but all are tried and true Curly Girl favorites.
How much conditioner should I use?
When you're first starting out, a lot. At least a whole palmful every time you wash/cowash. You'll likely need even more.
I found The Curly Girl Handbook to be a good guideline in the beginning. It says your hair should be totally saturated to the point that it feels like seaweed.
How strict do I have to be?
I tend to follow the more simplified version that you'll find in the Curly Girl Handbook.
According to the Handbook, in order to be following the Curly Girl Method, you need to avoid sulfate, silicone, drying alcohols, and heat.
It also recommends steering clear of any products that build up on your hair to the point that you would need a sulfate to wash it out.
Aside from that, you can be as relaxed or strict as you want! It's your hair. You need to do what works for you.
If you've done online research, you may have found a much longer list of products to avoid. This is because those products (like beeswax, mineral oil, castor oil, etc) can build up on your hair to the point that you'd need a sulfate to was them out.
But if you don't have that experience with a particular ingredient, you can use it and still be following the Curly Girl Method.
What do I do if I accidentally use a product with silicone?
It's not the end of the world. Wash with a sulfate shampoo and deep condition your hair after.
How do I sleep so my curls still look good the next day?
I've got a whole post on how to sleep with your curls to keep them intact! You can find it here!
How should I apply products to my hair?
For shampoo/cowash, I apply directly to my scalp and massage with my fingertips.
For conditioner, I smooth it over my hair like I'm icing a cake, then scrunch to encourage the curl pattern.
And for styling products, my personal favorite is to first use the praying hands technique, then scrunch my hair.
You can find of all of these discussed in my original hair routine post, and in my updated hair routine post.
How do I refresh my hair?
It took me FOREVER to find a refresh routine that works for my hair but it finally happened in the last few months! You can read all about it here!
What are some Curly Girl approved products can I use?
Check out the Curly Girl Approved products tag to see all the posts I've written about Curly Girl approved products. You'll find product reviews, products that have been my favorites throughout my journey, and lists of approved shampoos, conditioners, styling products, and more!
Looking for more guidance on your curly hair journey?
For beginners
If you're new to curly hair care and looking for some help, you should check out the No-Stress Guide to Curly Hair Care!
After spending two years learning and caring for my curly hair, I wanted to create my own, in-depth guide to help fellow curlies create incredible curls in the easiest way possible. 
It took me a while, but I eventually found an approach that helped me create a curly hair routine that fits into my life in the simplest way possible. And now I want to help you do the same!
For more intermediate/advanced guidance
If you've been on your curly hair journey for a while but still have some struggles, check out Curly Hair Problems!
After spending hours scouring the internet looking for solutions to my own curly hair problems, I found myself wishing for an easier, more comprehensive guide to the most common problems.
So that's what I created!
Curly Hair Problems offers you 78 total solutions to the five most common curly hair care problems, including frizz, curl clumps, limp curls, product issues, and scalp issues.
Sound off: Do you have an FAQ I missed? Tell us about it in the comments, and I'll update the post with my take on the answer when I can!