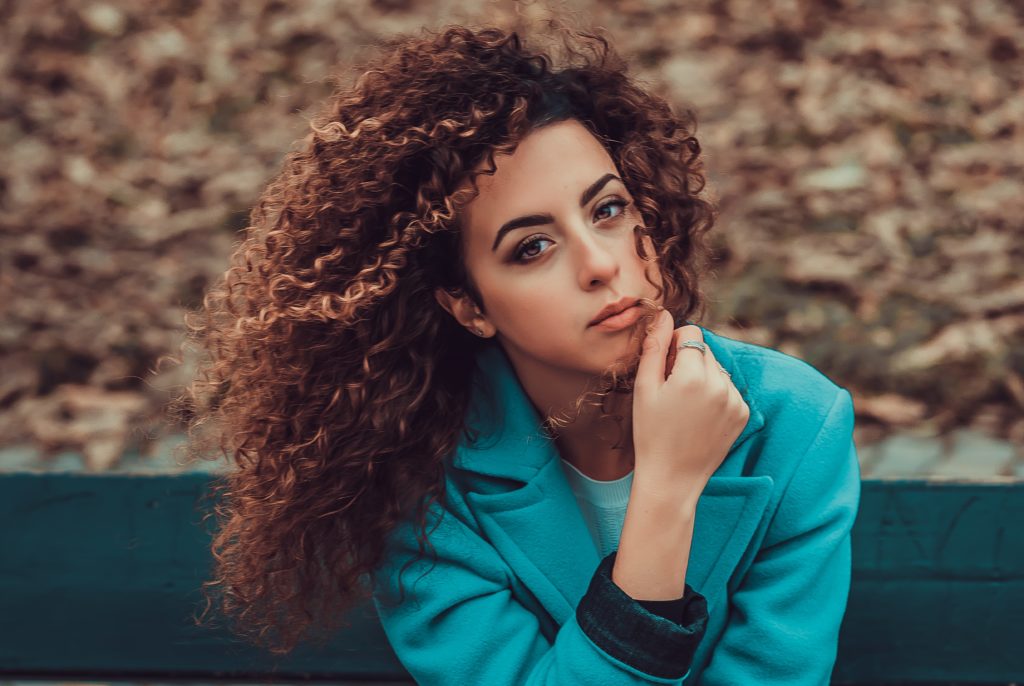 If you're following the Curly Girl Method (and even if you're not) deep conditioning can do wonders for your curls!
This post aims to cover the benefits of deep conditioning, how often you should do it, and how to go about it. I'll also share my own deep conditioning schedule and routine, and share my favorite deep conditioner for curly hair.
Side note: This page does contain affiliate links, which means if you purchase something using the product links on this page, I may get a small commission. This comes at no extra cost to you and helps keep this site running. Thank you!
The Benefits of Deep Conditioning
Better Curls
If you're following the Curly Girl Method, you likely already know that moisture helps curls curl better. Deep conditioning is going to give your hair intense moisture that will help you have great curls for days and/or weeks at a time.
Adding a deep conditioner for curly hair to your routine can simply help your curls overall.
Less Frizz
And if you know moisture helps curls curl better, you also probably know that it helps keep frizz at bay. Deep conditioning is going to take that frizz control to the next level.
If you find that you're using a fair amount of your daily conditioner and still can't seem to get rid of frizz, you may need more moisture than your regular conditioner can offer. That's where deep conditioning comes in.
Just like the intense moisture helps give your hair better, more defined curls, it will also give your hair enough hydration to reduce and even eliminate frizz.
How often to Deep Condition
How often you deep condition will depend on your hair's health and your hair type.
The curlier and more corse your hair is, the more frequently you may want to deep condition. You'll also want to deep condition more often if your hair is more damaged or fried.
It's also worth noting, that you'll likely have to deep condition more frequently in the beginning of the Curly Girl Method, and cut back as you transition to healthy hair.
If you're looking for a guideline, in the beginning, I'd suggest starting with once a week. Then pay attention to your hair and adjust from there.
If your hair seems like it's drying out, and you're noticing more frizz or less of a curl before the week is up, add some deep conditioning in the middle of the week as well.
If you find that your hair looks a little heavy, and your curls are so elongated that they're not really curls, this may be a sign of too much moisture.
Instead of hydrating your curls, it's weighing them down. If this is happening, cut back on your deep conditioning.
Alternatively, if you realize you have too much moisture, but cutting back how often you deep condition leaves your hair too dry, you can play with how much conditioner you use and how long you leave it in for instead.
So, you can keep conditioning twice a week, but you'll either use less conditioner or leave it on your hair for a shorter period of time.
How to Deep Condition
Purchase or DIY your deep conditioner
There are plenty of Curly Girl approved deep conditioners on the market. This includes several from Shea Moisture, Pacifica Pineapple Hydrate, Mielle Babassu Oil and Mint, and Garnier's Smoothing Treat One Minute Hair Mask.
You can find more on this list of 25 Curly Girl Approved deep conditioners.
Alternatively, you can make your own deep conditioner for curly hair. The Curly Girl Handbook has a few recipes. You can also find some on Pinterest.
Personally, I usually purchase my deep conditioners because the one time I tried to DIY I made such a mess in the shower. Seriously, there was banana everywhere!
But don't let this discourage you if you're into that sort of thing. I'm typically a disaster and if it's possible to make a mess, I'll find a way to do it.
So, this is likely more of a "me" problem. But since I'm covering this topic, I wanted to share what I use and why with you. 🙂
Apply
Apply the conditioner to your hair via package instructions. Typically these instructions will tell you to apply the conditioner from root to tip.
Unlike regular conditioner, you're going to rinse the deep conditioner out completely, so if you get some on your scalp, it's not that big of a deal.
You can apply your conditioner during your shower or immediately after, depending on how much time you're planning on leaving it in for.
Leave in for 15-30 minutes (or other recommended length)
Letting the deep conditioner sit on your hair for an extended period of time is where the deep hydration is going to come from. Follow the package or recipe time guidelines for best results.
If you're leaving your deep conditioner in your hair for a shorter time period, you can likely apply in the shower.
Simply wash your hair at the beginning of your shower, then apply the deep conditioner in place of regular conditioner. Then leave the conditioner in for the remainder of your shower and rinse out.
If you're leaving it in for an extended period of time, you may want to apply it right after you get out of the shower.
Cover with plastic bag/shower cap and/or apply heat
Heat will help open your hair cuticle to allow the conditioner to soak in. If you're applying your conditioner in the shower, using warm water before you apply should be enough.
The residual heat and steam of the shower should get the job done while the conditioner sits on your hair.
If you're leaving your deep conditioner on for longer post-shower, consider wrapping your head with a plastic bag, plastic wrap, or a shower cap. This will help trap your natural body heat.
You can also use a blow dryer on medium heat to warm your covered head.
Follow package directions
Some products have higher protein content, or are made for intense hydration over a shorter time period. Because of this, it's important to follow the directions.
You may think you'll help your hair if you leave a deep conditioner for curly hair on for longer than the recommended time, but that can actually be too intense for your hair and lead to some less-than-awesome results.
In some cases, you may even damage your hair as a result of over-conditioning.
My current deep conditioning schedule and routine
I've found that my hair responds best when I deep condition 1-2 times a week. My weekend deep conditioning is usually more intense.
That's where I coat my hair in the deep conditioner and leave it as the package recommends. I apply mine in the shower.
Currently, I alternate every other week between a more moisturizing conditioner (like Shea Moisture's Jamaican Black Castor Oil or Garnier's Smoothing Treat 1- Minutes Hair Mask) and a more protein based conditioner (like Shea Moisture's Manuka Honey & Yogurt Hydrate + Repair Protein-Strong Treatment or Mielle's Babassu Oil and Mint).
About halfway through the week, I also mix some of my moisturizing deep conditioner in with my regular conditioner and leave it in for the length of my shower.
This gives my hair just enough of a pick-me-up to make it to the weekend.
To check for yourself if a product is curly girl approved, you use isitcg.com.
Looking for more guidance on your curly hair journey?
For beginners
If you're new to curly hair care and looking for some help, you should check out the No-Stress Guide to Curly Hair Care!
After spending two years learning and caring for my curly hair, I wanted to create my own, in-depth guide to help fellow curlies create incredible curls in the easiest way possible. 
It took me a while, but I eventually found an approach that helped me create a curly hair routine that fits into my life in the simplest way possible. And now I want to help you do the same!
For more intermediate/advanced guidance
If you've been on your curly hair journey for a while but still have some struggles, check out Curly Hair Problems!
After spending hours scouring the internet looking for solutions to my own curly hair problems, I found myself wishing for an easier, more comprehensive guide to the most common problems.
So that's what I created!
Curly Hair Problems offers you 78 total solutions to the five most common curly hair care problems, including frizz, curl clumps, limp curls, product issues, and scalp issues.
Sound off: How often do you deep condition? What's your favorite deep conditioner for curly hair? Tell us about it in the comments! And be sure to tell us a little about your hair type!