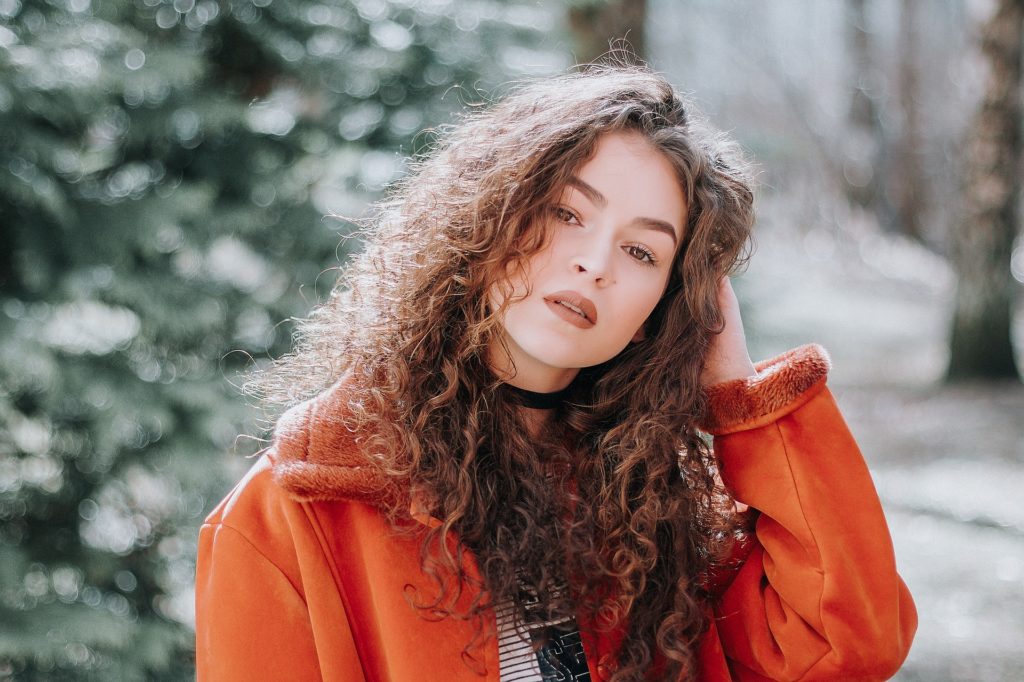 One of my biggest struggles with the Curly Girl Method hasn't been my hair at all–it's been my scalp.
I've always had a flaky scalp. In my pre-Curly Girl days, I used Head and Shoulders shampoo a couple of times a week to keep (what I thought was) dandruff under control.
When I started the Curly Girl Method, one of my concerns was how I would manage my scalp issues. However, I'd read that a lot of people find the Curly Girl Method helps their scalp, which made me even more excited to give it a shot.
As you may have guessed, the Curly Girl Method didn't fix my scalp–at least not at first. After some research, I realized I didn't have dandruff at all. I had dry scalp, which isn't the same thing.
And while the Curly Girl method didn't initially fix my scalp problems, it did ultimately help me develop a natural, gentler, more effective way of dealing with it.
Today, I'm going to tell you about my experience with dry scalp and five possible solutions to help you combat it if you find yourself in the same position.
Side note: This page does contain affiliate links, which means if you purchase something using the product links on this page, I may get a small commission. This comes at no extra cost to you and helps keep this site running. Thank you!
My Dry Scalp Experience
The first clue that I had dry scalp came during my transition period.
Most Curly Girls have a phase during their transition period when they first start following the Method where their hair is oily. That's because your hair is used to overproducing oil to replace the oil stripped out regularly with a sulfate shampoo.
But my hair never got all that oily. This was likely because of my dry scalp.
A few months into the Curly Girl Method, I started noticing some serious flakes on my shoulders and dry patches at various points on my scalp. The flakes would fall pretty much any time I shifted my hair or moved my head too fast.
At the time, I thought this was dandruff and I set off to find a dandruff solution.
But what I learned along the way is that Dandruff is an overproduction of oil, and dry scalp is an underproduction of oil. They are two different problems.
Given that I had white flaky patches of dry skin on my scalp, I was fairly confident I had dry scalp, and I set out to treat it as such.
This was a self-diagnosis on my part, but given that my flakes have gone away, I'm pretty sure I got it right!
With that in mind, here are five natural, Curly Girl Approved solutions to help you fix your dry scalp.
Five Possible fixes
Oil
Putting some moisturizing oils on your scalp will help keep your scalp moisturized and keep flakes at bay. I found my way to this approach by accident.
Remember how I said I didn't have a problem until a few months into the Curly Girl Method? Well, that's because I had been massaging my scalp with oils to help it grow, which inadvertently kept my scalp moisturized.
I've found a mix of 50% melted coconut oil and 50% olive oil have been the most effective. I massage the oils into my scalp about an hour before bed a few nights a week.
Then I let the oils stay in my hair overnight, then wash them out with my co-wash in the morning.
I don't like to sleep in a shower cap, so I find that if I make sure the oils just coat my scalp, an hour is enough time for them to absorb enough that my pillow and hair don't end up oily.
When the problem was worse, I did this nightly, then backed off as my flakes died down. This has had the biggest impact in hydrating my scalp.
Shampoo more
If you're only washing every 5-7 days, shampooing with a sulfate free shampoo, like Shea Moisture's Curl and Shine, more often may help. This does two things to help with dry scalp.
First, it helps to remove any dry patches that have flaked off so they're not trapped in your hair.
Second, it helps remove product build up, which can gather on the scalp and lead to more flaking/dryness.
However, it's worth noting that you don't want to be shampooing too much more, as that may remove too much oil and leave your scalp dryer. (I know, the balancing act can kind of suck sometimes!)
So if you're already shampooing 2-3 times a week, this suggestion may not be best for you.
Use a scalp relief sulfate free shampoo
If shampooing more often isn't getting it done, you may want to think about trying a shampoo designed to help your scalp.
And yes, there are curly girl approved, sulfate free options, you can choose, like Maple Holistics Pure Tea Tree Oil Shampoo or Cantu's TXTR Scalp Relief Shampoo.
The Cantu shampoos turned out to be a GAME CHANGER for me. If you want to read more about it, check out my full review here!
Use a scalp brush when you wash/cowash
This also turned out to be pretty helpful for me. Using this inexpensive shampoo/scalp brush when I wash and cowash.
It helps make sure there isn't any product/conditioner build up on the scalp. It also helps remove dry, dead skin in the shower so it won't flake off onto your shirt.
If you want to level up, you can also try this vibrating scalp massager.
Exfoliate your scalp
This suggestion doesn't help dry scalp as much as it helps cut down on the flakes dry scalp causes. Your scalp is skin. It has dead skin cells just like the rest of your body.
And if you have dry scalp, it's likely that you have more dead skin cells than usual. Exfoliating can help get rid of excess flakes and dead skin that may be contributing to any dry patches.
To exfoliate, you can use a specifically designed product, like this scalp scrub from Not Your Mother's, which is Curly Girl approved.
Or you can make your own exfoliator with a tablespoon of brown sugar and a tablespoon of conditioner.
See a medical professional if necessary
If nothing you're trying is working, consider reaching out to a doctor or dermatologist. Healthy hair starts with a healthy scalp, and there are some scalp problems that need more than oil and exfoliation. Don't be afraid to reach out.
Quick note about product flakes
If you're having serious flake-age, take note of where it's coming from. Is it coming from just your scalp? Or is it coming from your hair? Or both?
If your hair is involved, this is likely that product build up is a contributing factor. Try washing with a sulfate-free shampoo more often and/or using a clarifying shampoo, like Kinky Curly's Come Clean, every month or so.
For more products, check out these posts: 25 Curly Girl Approved Drugstore Products, 25 Curly Girl Approved Conditioners, 25 Curly Girl Approved Gels, Curly Girl Beginner Products.
To check for yourself if a product is curly girl approved, you can use isitcg.com.
Looking for more guidance on your curly hair journey?
For beginners
If you're new to curly hair care and looking for some help, you should check out the No-Stress Guide to Curly Hair Care!
After spending two years learning and caring for my curly hair, I wanted to create my own, in-depth guide to help fellow curlies create incredible curls in the easiest way possible. 
It took me a while, but I eventually found an approach that helped me create a curly hair routine that fits into my life in the simplest way possible. And now I want to help you do the same!
For more intermediate/advanced guidance
If you've been on your curly hair journey for a while but still have some struggles, check out Curly Hair Problems!
After spending hours scouring the internet looking for solutions to my own curly hair problems, I found myself wishing for an easier, more comprehensive guide to the most common problems.
So that's what I created!
Curly Hair Problems offers you 78 total solutions to the five most common curly hair care problems, including frizz, curl clumps, limp curls, product issues, and scalp issues.
Sound off: Have you had scalp issues What have you struggled with? What's worked and what hasn't?