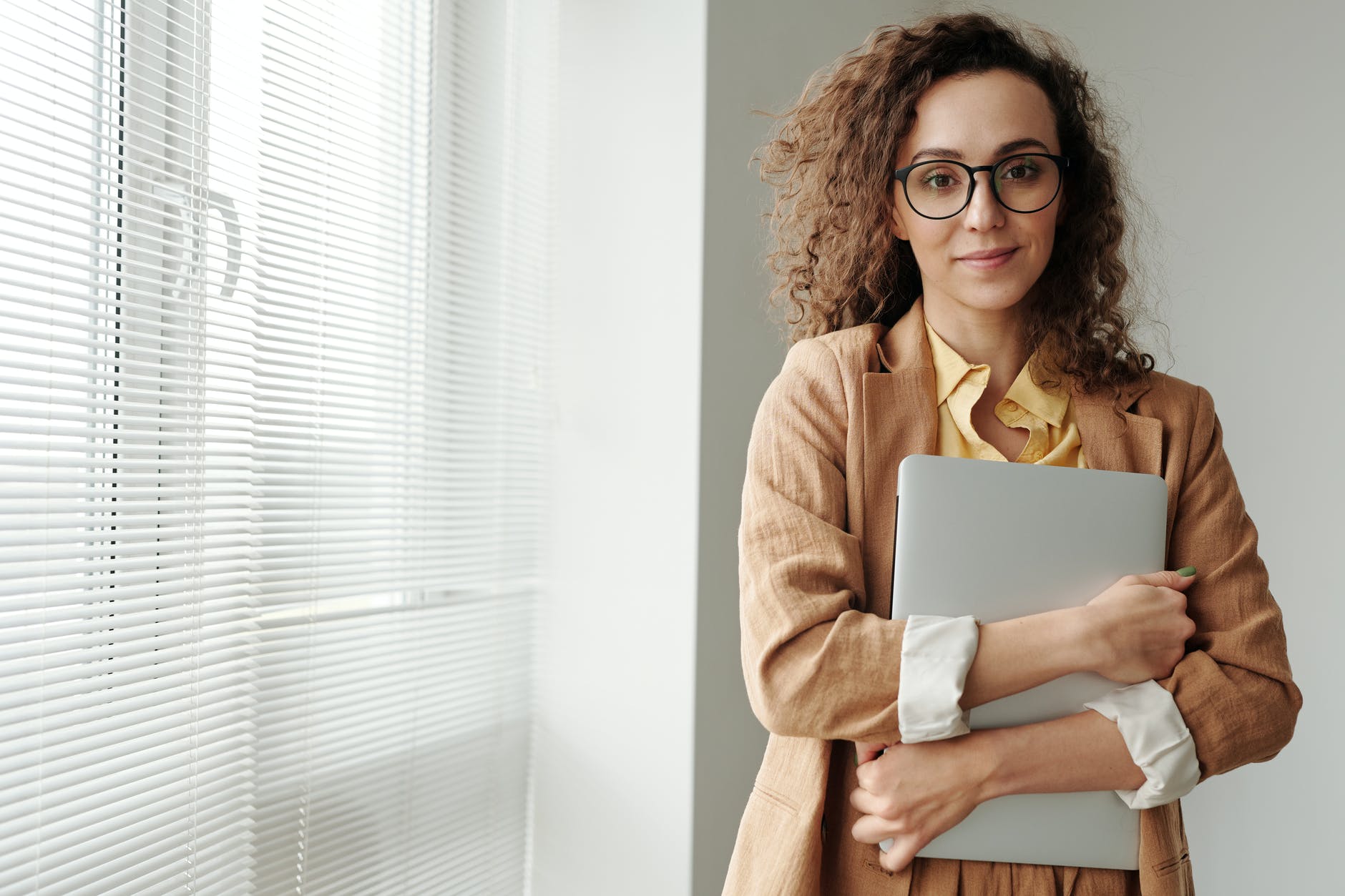 I've been blogging about my hair and the Curly Girl Method for nearly four years now. But I've never completely broken down the specifics of how the Curly Girl Method transformed my hair and my life.
So, that's what this post is going to cover.
Here are 6 ways the Curly Girl Method transformed my hair and 3 ways it transformed my life.
Side note: This page does contain affiliate links, which means if you purchase something using the product links on this page, I may get a small commission. This comes at no extra cost to you and helps keep this site running. Thank you!
How the Curly Girl Method transformed my hair
Actual, sustainable frizz control
Prior to the Curly Girl Method, I'd used a lot of products with silicone in them.
And while this would often leave me with decent frizz control on an average day, it still felt like my hair was a bit of a wild card.
And if it was humid or raining or weather, frizz was just a fact of life.
Once I started the Curly Girl Method and learned how to properly hydrate my hair, I found my frizz was pretty minimal–even on a bad day!
I do need to add a little extra gel if it's humid or rainy to get the best results. But even if I don't, my hair's frizz is still manageable compared to my pre-Curly Girl days.
Genuine curl clumps
Before I started the Curly Girl Method, my hair would curl, but my curls were pretty separated and much more stringy than clumped. You can see this in the Pre-Curly Girl pics in the points above and below.
Now that I follow the Curly Girl Method, I get genuine curl clumps that sometimes look like I used curlers or a curling iron.
These clumps are achievable every wash day (though often the size depends on the amount of product and moisture).
I never thought my curls could clump on their own, with as little time and effort as I spend, but they can!
My curls have life and bounce
In the past, my curls used to be limp and stretched out. I wasn't using enough conditioner or product, so they didn't have enough moisture to curl properly.
Now, my curls have actual life and bounce! Again, I had no idea this was something that could be naturally achieved.
In the past, when I wanted a controlled, bouncy curl, I used to have to straighten my hair, then used a curling iron.
The fact that I can naturally get curls that looks this reliably good with so little effort still blows my mind.
You can read more about my before and after here!
My hair grows faster
I've also noticed that since I started taking better care of my hair, it seems to grow faster.
It also doesn't seem to need to be cut as frequently as it used to.
This typically leads to so great, full hair and less regular maintenance.
I learned how to find affordable products that work (and leave my hair feeling amazing)
Before the Curly Girl Method, I uses to have, like, five or six styling products I would use to keep my hair in-check.
Some of these products were around $30 for not-all-that-much product, which isn't really how I like to live my life.
And even then, I still couldn't always count on a positive overall appearance.
On top of that, I would often feel the product build up in my hair. It left my hair sticky and tacky. And by the end of the day it just felt gross.
Now I used 3 styling products and when my hair is dry, it feels soft and light–as if there isn't any product in it at all! And I can count on my hair looking pretty awesome day in and day out.
Additionally, I've never paid more than $15 for any of my regular Curly Girl products.
In case you're wondering, the three products are:
Kinky Curly Knot Today Leave-in Conditioner (though, if I can't get this one, I'll do Curls Blueberry Bliss Leave-in or Mielle's Hawaiian Ginger Leave-in).
Cantu's Moisturizing Curl Activator Cream
You can read more about how I use them in my latest routine post!
I learned how to take care of my scalp
I had some scalp flakes prior to the Curly Girl Method. In the past, I would just use a dandruff shampoo to control the flake-age, but that never really got to the heart of the problem.
Following the Curly Girl Method helped me better understand and care for my scalp.
As a result, I learned how to actually take care of my scalp and resolve my problem–not just treat a symptom. Now, my scalp flakes have actually stopped!
You can read more about my experience with dry scalp and the Curly Girl Method here.
How the Curly Girl Method transformed my life
I gained so much time
Being able to refresh my hair is revolutionary.
It means washing my hair so much less, which in turn saves me a lot of time.
My showers are shorter, and I don't have to wait for my hair to dry (or spend time drying my hair) every single day like I used to.
With that said, I was definitely spending more time on my hair when I started the Curly Girl Method. It took some time to get used to this new hair care routine and to really learn my hair.
But now that I got that down, I spend significantly less time on my hair than I did in my pre-Curly Girl days. It's seriously simplified my hair cair while maximizing results.
I save so much money
Now that I understand how curly hair works, I know that it's very possible to have great hair with inexpensive products.
All the products I buy are under $15, and even the most expensive one comes in a pretty sizable container. Gone are the days of $30 hair products for barely any product.
Not only that, now that I've got my refresh down and only wash my hair a couple of times a week, I go through these products very slowly.
I was spending more in the beginning as I tried to find the right products for my hair. But once I landed on what works for me, my hair care bill shrunk significantly.
I'll still try new products, but now that I have a better understanding of what works for me and what doesn't, it's easier to buy products that yield a successful outcome.
I learned how to control the one part of my appearance I always thought was uncontrollable
I think we can probably all agree that when curls are behaving, they can look pretty awesome.
Unfortunately, most people with curly hair don't know how to naturally create those results. And when you can't get your curls to behave, it looks chaotic, frizzy, messy, and uncontrolled.
And if you're anything like me, it also feels that way too.
After years of straightening my hair, and then layering expensive products, desperately trying to get some sense of control, it feels unbelievably freeing to be able to create fabulous, reliable curls.
I feel like I finally have some sense of control over how my hair looks and presents without trying to change its natural state.
As a whole, it makes me feel more authentic, which I also find to be pretty fierce and empowering.
Looking for more guidance on your curly hair journey?
For beginners
If you're new to curly hair care and looking for some help, you should check out the No-Stress Guide to Curly Hair Care!
After spending two years learning and caring for my curly hair, I wanted to create my own, in-depth guide to help fellow curlies create incredible curls in the easiest way possible. 
It took me a while, but I eventually found an approach that helped me create a curly hair routine that fits into my life in the simplest way possible. And now I want to help you do the same!
For more intermediate/advanced guidance
If you've been on your curly hair journey for a while but still have some struggles, check out Curly Hair Problems!
After spending hours scouring the internet looking for solutions to my own curly hair problems, I found myself wishing for an easier, more comprehensive guide to the most common problems.
So that's what I created!
Curly Hair Problems offers you 78 total solutions to the five most common curly hair care problems, including frizz, curl clumps, limp curls, product issues, and scalp issues.
Sound off: How has the Curly Girl Method changed your hair? Tell us about your experience! Be sure to tell us a little about your hair type too!