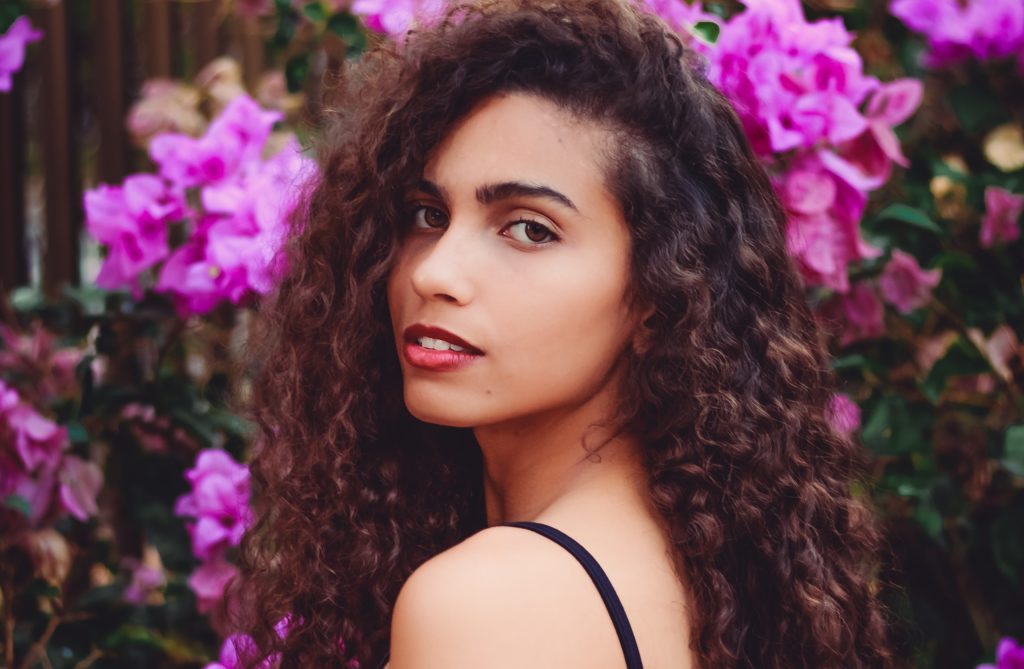 One of the first things the Curly Girl Method preaches is the importance of moisture and hydration for curly hair. This is because moisture is a massive element in creating gorgeous, healthy, frizz-free curls.
However, like most things in life, it's about balance. Most people starting the Curly Girl Method are severally lacking in moisture, which (I believe) is why the CGM talks so much about the importance of moisture and hydration.
But it's very possible to over moisturize your hair and end up doing more harm than good.
Today we'll look at why curly hair needs moisture, how you can tell when your hair needs moisture, how to add some to your hair, signs your hair may have too much moisture, and what to do if you find yourself with over moisturized curls.
Side note: This page does contain affiliate links, which means if you purchase something using the product links on this page, I may get a small commission. This comes at no extra cost to you and helps keep this site running. Thank you!
Why does curly hair need moisture?
Like I said in the protein post, I've never been great at understanding and explaining the nitty-gritty of science and biology.
But what I do know from reading the Curly Girl Handbook is that moisture is the key element to creating gorgeous curls.
In fact, the whole Curly Girl Method is essentially built around adding and locking in moisture.
We avoid sulfate shampoos because they strip our natural moisturizing oils. And we use gel and other products to lock in as much moisture as we can.
Basically, curly hair needs moisture to actually be curly and controlled.
How to tell when your hair needs moisture
The biggest sign that your hair needs moisture is frizz. Frizz happens when you're hair isn't hydrated enough or isn't holding on to moisture like it needs to be.
The frizzier your hair is, the more moisture it needs.
Aside from frizz, you can also tell your hair needs moisture based on how it behaves. If it feels very dry, tangles easily and just feel generally weak, that's a sign your hair likely needs moisture.
It also may not be curling quite as well or holding a curl throughout the day as it has in the past.
How to give your hair the moisture it needs
Daily Conditioning
One of the best ways to keep your hair hydrated is to condition it daily with a daily, hydrating, curly girl approved conditioner.
Daily conditioning refreshes your hair and gives it a healthy dose of moisture to help it be it's best.
I typically put conditioner in my hair towards the beginning of my shower and leave it in until the end. This allows my hair to absorb as much moisture as possible, which gives me so awesome frizz-free curls.
My two favorite daily conditioners are Suave Essentials Tropical Coconut, and Tresemme Botanique. For more conditioner options, check out this post with 25 Curly Girl Approved Conditioners.
Deep Conditioning
Because daily conditioning doesn't always give curly girls enough hydrations, it's usually a good idea to deep condition your hair on a regular basis.
What a "regular basis" is will depend on what your hair individual hair responds to.
Deep conditioning gives your hair a more intense hydrating treatment that will give your hair a moisture boost that will last for an extended period of time.
This time frame may be days or weeks depending on your hair, but it will definitely get you farther than your daily conditioning.
Some deep conditioners to try are Shea Moisture Jamaican Black Castor Oil Strengthening Treatment, Pacifica Pineapple Hydrate, and Garnier's Smoothing Treat One Minute Hair Mask.
For more on deep conditioning, check out this post!
Leave-ins and Creams
When you style your hair you can use a leave-in conditioner or moisturizing curl cream to add some extra moisture.
Your leave-in can be a product designed to be a leave in, or you can simply use some of your daily conditioner.
It's a good idea to use a leave-in or cream (or both) if you find that your hair looks good shortly after it dries, but is frizzier by the end of the day.
I use Suave Essentials as my leave-in and Not Your Mother's Curl Talk Defining Cream as my curl cream. For more Leave-in and Styling products, check out this post!
Shampoo less often
One way to help your hair's moisture is to lean on your own naturally produced moisturizing oils.
If you've eliminated a sulfate shampoo, you're going a long way in keeping your own moisturizing oils intact.
However, even if you're using a sulfate free shampoo, you're still taking some hydrating oils out of your hair, so the less you shampoo your hair, the better it is for your hair's moisture.
(But like we've covered, curly hair is a balancing act. So go as long as you can without washing, but if you have product build up or a flaky scalp, wash when you need to and add moisture another way.)
Signs your hair has too much moisture
Because moisture is so important, it can be easy to think that the more you hydrate your hair, the happier it'll be.
But as we touched on earlier, it may take a lot, but it is VERY possible to over moisturize your hair.
If you notice your hair is very soft, limp, lifeless, and maybe even a little mushy, you likely have too much moisture in your hair. Your hair may also have curls that are flat and elongated with very little bounce.
You can avoid over moisturizing by staying consistant with the amount of moisture you use once you find a good balance, and then paying attention to your hair.
If it's frizzier or drier than usual, add more moisture. However, if you notice that your hair is feeling a little too soft and squishy, cut back.
Additionally, it's important to follow package directions, especially where deep conditioning is concerned. Leaving a product in for longer than the recommended time may result in over moisturizing.
If you follow the directions and feel like your hair still needs more moisture, consider deep conditioning more often, or gradually increasing the time you leave the product in until you find the sweet spot.
But leaving a 1-minute mask in for 20 minutes on the first try is a bad plan! (And yes, this point is brought to you by a personal experience.🤦‍♀️)
How to fix over moisturized hair
There are two key ways to fix over moisturized hair.
The first cut down on moisturizing products until your hair is back to a healthier state. And while you want to cut down on moisture, you likely don't want to cut it out entirely or you run the risk of overcorrecting.
Instead, stop deep conditioning for the time being, wash a little more often, and use less of your daily conditioner and hydrating style products (but still use some of them).
The second thing you can do is give your hair some protein! Maintaining a good protein/moisture balance in your hair is critical for happy curls.
If your hair is over moisturized, the best thing you can do is balance it out with some protein.
Like with the first point here, you don't want to over correct, so maybe start with one or two treatments in the first week, then cut back as your hair responds.
My favorite protein treatments are Mielle Organic Babassu Oil And Mint Deep Conditioner and Shea Moisture Manuka Honey & Yogurt Hydrate + Repair Protein-Strong Treatment.
You can learn more about protein and why it matters for curly hair by checking out this post.
Looking for more guidance on your curly hair journey?
For beginners
If you're new to curly hair care and looking for some help, you should check out the No-Stress Guide to Curly Hair Care!
After spending two years learning and caring for my curly hair, I wanted to create my own, in-depth guide to help fellow curlies create incredible curls in the easiest way possible. 
It took me a while, but I eventually found an approach that helped me create a curly hair routine that fits into my life in the simplest way possible. And now I want to help you do the same!
For more intermediate/advanced guidance
If you've been on your curly hair journey for a while but still have some struggles, check out Curly Hair Problems!
After spending hours scouring the internet looking for solutions to my own curly hair problems, I found myself wishing for an easier, more comprehensive guide to the most common problems.
So that's what I created!
Curly Hair Problems offers you 78 total solutions to the five most common curly hair care problems, including frizz, curl clumps, limp curls, product issues, and scalp issues.
Sound off: What's been your experience with moisture and curly hair? Were you able to find a good balance? Tell us about it in the comments! And be sure to tell us a little about your hair type.