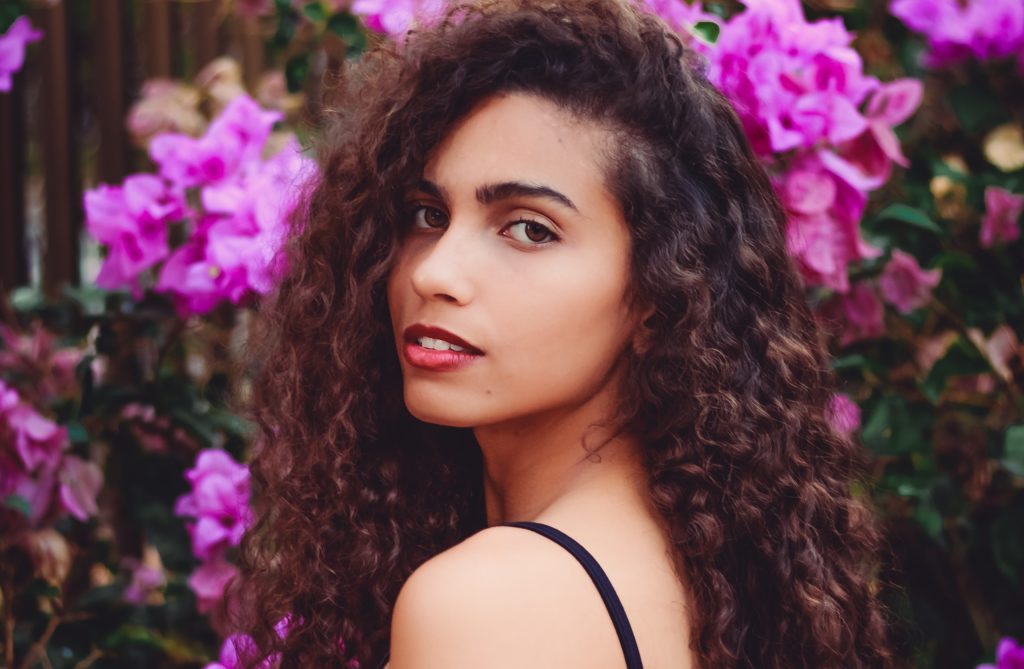 I find curly girl method hair routine posts to be some of the most helpful curly girl posts out there, which is a big reason why I want to share my own curly hair routine.
I created this routine by reading and learning about other curly girls' hair routines and trying, combining and modifying their techniques until I had a hair routine that gave me curls I love!
So today, I'm going to walk you through my curly girl method hair routine!
Side note: This page does contain affiliate links, which means if you purchase something using the product links on this page, I may get a small commission. This comes at no extra cost to you and helps keep this site running. Thank you!
Co-wash/Wash
The first step in my curly hair routine is to wash my hair.
I wash or co-wash my hair every day.
Ideally, you shouldn't need to co-wash every day, but I've yet to find a refresh routine that works for my hair (and I've tried several). I just get the best result when I start my day with some kind of wash.
(UPDATE! I've found a refresh routine that works for me! You can check it out here!)
First, I get my hair good and wet. Then take about a quarter size amount of conditioner/sulfate free shampoo.
I spread it evenly over my fingers, then massage it into my scalp.
Once the product is worked in, I flip my hair upside down and massage some more.
I've had issues with product and conditioner build up on my scalp, so I use this inexpensive scalp/shampoo brush to get my scalp good and clean.
I also rinse upside down with the brush to make sure I get all the conditioner/shampoo off my scalp (but if your scalp comes clean enough with just your fingers, you can skip this).
Currently, I'm using Suave Essentials Tropical Coconut conditioner as a co-wash and Cantu Sulfate-free shampoo as my shampoo.
Condition
Next, it's time to apply conditioner.
In this case, I follow the method recommended in The Curly Girl Handbook. First, I take about a palmful of conditioner.
Then I gently spread it over my hair like I'm icing a cake, doing my best to avoid the scalp.
Once my hair is coated, I start to work the conditioner through my hair and detangle as I go. I pay special attention to the nape of my neck, which tends to have extra tangles.
I usually need more conditioner about halfway through–the goal is to get your hair saturated so your fingers slide through with very little resistance. I've often seen it described that your hair should feel like seaweed.
I found this to be a good guide in the beginning when my hair was really dry, but as it got healthier, that much conditioner was way too much for me.
Now I shoot for hair that's covered in conditioner and easily detangles, but isn't necessarily dripping with conditioner. Play around with it and see what works best for your hair.
Once my hair is completely detangled, I flip my head upside, cup my curls in my palms, and squish my hair (full of conditioner) up towards my scalp. (AKA squish to condish).
This encourages the hair's natural curl pattern.
Then I leave the conditioner in my hair for the rest of my shower.
Currently, I'm finding Tresseme's Botanique conditioner is giving me great results.
Rinse out completely
At the end of my shower, I rinse my conditioner out completely.
I used to leave some conditioner in my hair, but apparently, I'm really bad with avoiding the scalp when I put the conditioner in.
If I don't rinse out, I end up with conditioner build up on my scalp that flakes off throughout the day. It's gross and uncomfortable!
But if you're giving this routine a try and you find that your scalp-avoiding skills are stronger than mine, you can skip this step and just leave some conditioner in your hair (though it will likely take some trial and error to figure out how much to leave in).
I use cold water to rinse out (with my body out of the spray) to seal the hair cuticle and lock in moisture.
Leave-in
The next step in my curly hair routine is to style!
I apply all my styling products as soon as I get out of the shower.
Since I rinsed all the conditioner out of my hair, my first styling product is a leave-in conditioner. ( But if you left some conditioner in your hair, you can jump to the cream).
I flip my hair upside down, and I leave my head like this until all of my products are applied.
First, before I add anything, I gently run my hands over my hair in a downward motion to brush off excess water.
Next, I squirt about a little more than a quarter size amount of conditioner in my hands.
I coat my hands in conditioner then spread the conditioner over my hair using the praying hands technique.
Then I cup my curls and scrunch up toward my scalp to encourage the curl pattern.
I've found regular conditioners make the best leave-ins in small amounts. Currently, I'm using Suave Essentials for this step, but I used Tresseme Bontanique in the beginning when my hair was dryer.
Cream
I've always needed a hair cream to help my hair stay moisturized throughout the day. My absolute favorite has been Not Your Mother's Curl Talk Defining Cream. (Check out my review of this cream here!)
With my head still tipped forward, I section my hair into two sections, then squeeze out a fingertip amount of curl cream (you really don't need much).
I spread the product evenly over my hands, then use the praying hands technique to apply the product to half of my hair. Then I repeat on the second half of my hair.
If your hair needs extra help curling or if you like a tighter curl, you can scrunch here. I like my hair to curl a little looser, so I don't scrunch until after I put gel in.
Gel
My current favorite gel is Biotera's Styling Defining Gel, (but I used harder hold gels earlier in my Curly Girl process and they worked fine!)
My hair is still tipped forward and separated into two sections.
I squirt a palmful of gel into one hand. (I'm writing this with the Biotera gel in mind. You may need more or less if you're using a different gel).
I spread the gel evenly between both hands, then use the praying hands method to coat half my hair in gel and repeat for the second section of hair.
Then I (again) cup my curls in my hands and scrunch to the scalp to encourage the curl.
Drying
Next, I tip my head back upright and shake my curls out so they fall naturally into place.
I tend to have halo/surface frizz, so I take another half a palmful of gel, spread it between my hands, and gently coat the surface of my hair.
For root volume, I gently gather the top of my hair together and loosely clip it at the crown of my head with a large claw clip. This helps the roots dry lifted and using a large clip keeps the curls from getting crushed.
I remove clip after about an hour and a half.
I let my hair air dry completely. It typically takes 2-3 hours. While it dries, I get ready for the day, and start working.
Side note: You may have noticed I don't use a t-shirt or anything to help my hair dry. That's because I found that with the NYM curl cream, I don't need to! I don't know what it is about that cream but once I apply it, it's like it pulls the moisture in.
My hair's still wet, but not dripping and it's somehow lighter.
The only thing I do to get rid of extra water is to brush it off with my hands before I add my leave-in conditioner.
Scrunch Out the Crunch
When my hair is completely dry, I have a gel cast coating my curls. So the last step in my curly hair routine is to get rid of that crunch!
To get rid of this I tip my head forward again and gently scrunch upward toward my scalp to break up the cast. I also gently ruffle my hair at the roots for a little extra volume.
UPDATE! As of 11/7/19, I have an updated wash day routine! You can check it out here!
Looking for more guidance on your curly hair journey?
For beginners
If you're new to curly hair care and looking for some help, you should check out the No-Stress Guide to Curly Hair Care!
After spending two years learning and caring for my curly hair, I wanted to create my own, in-depth guide to help fellow curlies create incredible curls in the easiest way possible. 
It took me a while, but I eventually found an approach that helped me create a curly hair routine that fits into my life in the simplest way possible. And now I want to help you do the same!
For more intermediate/advanced guidance
If you've been on your curly hair journey for a while but still have some struggles, check out Curly Hair Problems!
After spending hours scouring the internet looking for solutions to my own curly hair problems, I found myself wishing for an easier, more comprehensive guide to the most common problems.
So that's what I created!
Curly Hair Problems offers you 78 total solutions to the five most common curly hair care problems, including frizz, curl clumps, limp curls, product issues, and scalp issues.
Sound off: If you try this curly girl method hair routine, how did it work for you? (Be sure to tell us about your hair type). You can also share your routine! Leave it all in the comments!