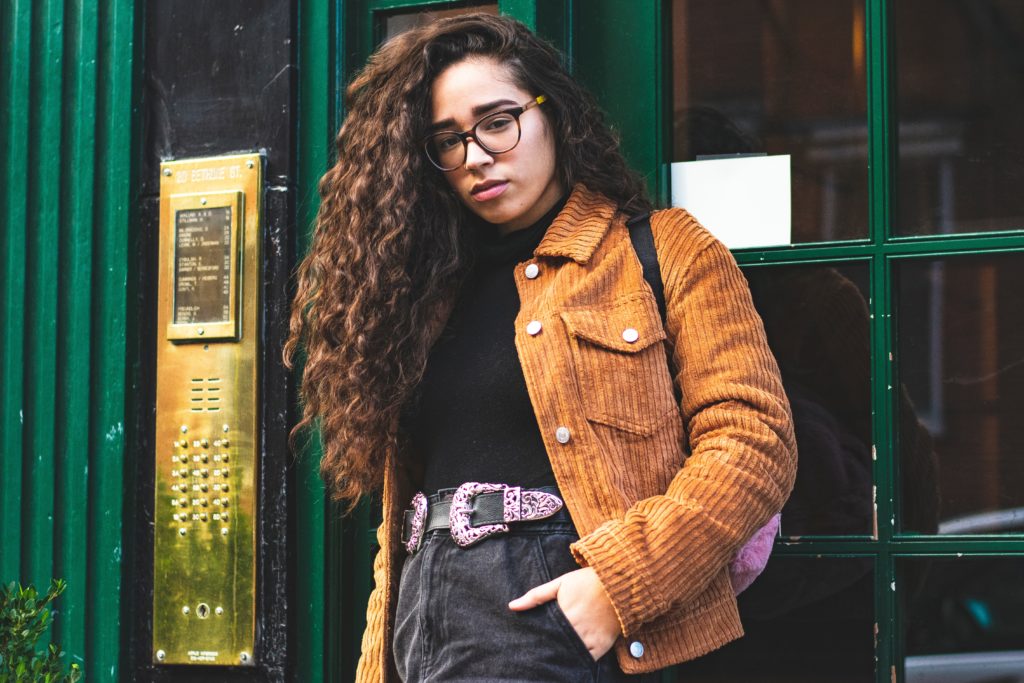 Today, I'm sharing my Curly Girl Method refresh routine!
If you've been reading this blog for a while now, you may know that for most of my time on the Curly Girl Method, I've struggled to find a refresh routine that works with my hair.
Well, I've been playing around with refreshing for the past few months, and I have finally found a reliable refresh routine that gives me great second and third day curls (and sometimes even great fourth and fifth day hair!)
So today, I'm going to talk a little bit about my struggles with refreshing and I'm sharing the routine that finally worked for me (including two key discoveries that took me by surprise).
Side note: This page does contain affiliate links, which means if you purchase something using the product links on this page, I may get a small commission. This comes at no extra cost to you and helps keep this site running. Thank you!
My history with refreshing
Like I mentioned, I've had a hard time successfully refreshing my hair.
I did a lot of research. I followed other people's techniques.
In my early attempts, I would dampen my hair with a spray bottle, and apply small amounts of product, just like I found online.
But no matter why I did my second-day hair would almost instantly frizz significantly. In fact, it often looked frizzier after I refreshed than it did before.
I would often then apply more product to combat the frizz, that my hair would start to feel dirty and heavy with product.
After a couple of tries, I would often abandon my refresh attempts for a month or two, and just accept that to get good results, I had to start with wet hair every day.
But as I got further into the Curly Girl Method, I noticed my second day hair started looking better and better. So over the past few months, I became determined to find a good refresh routine.
And finally, I did!
Here's what ended up working for me:
Wash day
First, getting good second and third day hair starts by having a hydrating wash day routine.
You can read all about my updated wash day routine here.
You'll notice, I use a fair amount of conditioner–and several different types–in this routine, which is more than I used to in my old routine.
This is because I've found that if I want my hair to stay hydrated for several days, it needs a little something extra on wash day to make it last.
I've also found that I need less product at this stage in the game, which I think helps keep my hair from getting heavy and weighed down.
Sleep in a pineapple
Next, I sleep with my hair in a pineapple
This keeps my curls from being crushed overnight and ensures I wake up with defined second (or third, fourth, etc) day hair.
My hair is longer now than it used to be, so the pineapple is working really well for me now! I've definitely found that the longer my hair gets, and the farther forward I can put my pineapple, the better my hair is the next day.
If you have shorter hair, or just find the pineapple doesn't work well for you, check out this post on how to sleep with curly hair for more options.
Shower with a shower cap
On refresh days, I shower with a shower cap, then refresh my hair after my shower.
I really like these disposable shower caps. They're made for single-use, but I find I can usually get several weeks out of one.
I've tried using more expensive shower caps that were supposed to last longer, but they usually got stretched out and moldy pretty quickly.
100 of these disposable caps are cheaper than one more sturdy cap, and you could get years out of one pack. I've also found that one cap lasts at least as long as the more expensive kind that are supposed to be reuseable.
I usually shower with my hair still pineappled and covered with the shower cap.
After following my wash day routine, pineappling, and showering, I take my hair down. I typically end up with pretty well-defined, but frizzier hair.
Now it's time to refresh! This routine takes me about five minutes.
Curly Girl Method Refresh
No water!
First, I want to mention what I don't do. I don't wet my hair at all!
This is largely because I noticed in the past that as soon as I wet my hair, the frizz situation got worse, not better. I always hoped that when I gave my hair time to dry, the new frizz would go away, but it never did.
Skipping water in my refresh routine turned out to be one of the keys to a reliable refresh routine for me.
In all my research on refresh routines, I'd never come across a routine that skips rewetting entirely, which is why I wanted to highlight this step here.
I was surprised when this worked for me.
A lot of people seem to need to dampen or rewet their hair, but if your experience sounds similar to mine, you might want to give this a shot!
Conditioner
Next, I apply Tresseme Botanique conditioner to my dry hair.
I get a large bottle at Target that has a pump. I take one pump of conditioner in my palm, which is about a quarter-sized amount:
Next, I rub my palms together and coat my hands in conditioner. Then I smooth the conditioner over my the canopy of my hair. This is typically the driest and frizziest.
Then I'll add any remaining conditioner to the underside of my hair.
Then I gently scrunch a few times.
Styling cream
Next, I apply my styling cream with essentially the same technique.
I use Cantu's Moisturizing Curl Activator Cream (check out the full review here). This has also turned out to be a key element to my refresh routine.
I found that this product makes my hair significantly less frizzy and keeps my curls well defined from day to day, which makes it possible (and easy) for me to refresh.
I've never had definition like this for several days with any other cream.
You can check out my full review of this product here.
Like I mention in my review, this cream is amazing. But a little goes a long way, and it's really easy to use too much and end up with hair that feels dirty, tacky, and weighed down.
That's also true when it comes to refresh.
I use about a fingertip amount on my whole head when I style, but when I refresh, I use less than half a fingertip:
I apply this the same way I do the conditioner. First by rubbing it between my palms to coat both hands, then spreading it on my canopy.
I then spread it on the underside of my hair.
And gently scrunch a few times to spread it throughout.
Gel
And lastly, I apply my Biotera gel (you can read my review here) in the same fashion.
I use about a nickel-sized amount for my whole head.
I spread between my palms, then coat it on my canopy.
Then I tackle the underside of my hair.
And then I scrunch.
How long each wash lasts
At this point, I can reliably get good second and third day hair with this refresh routine. I've also been about to go as many as five days, but days four and five aren't guarantees.
It can depend on my activity, the weather, and how much product I've used in the previous days. (Sometimes I get distracted when I'm applying and add too much.🤷‍♀️)
After day three, I typically assess at the start of each day how my hair looks and feels. If it's really frizzy, undefined, or feeling product heavy I'll wash. If it's not, I'll refresh.
Modifications for Day 3 and beyond
I mostly keep the same routine for day 3 and beyond, but sometimes I have to make some modifications.
By day 3, the underside of my hair is usually starting to lose some definition. This is because it gets stretched out the most reaching the top of my head when I pineapple.
In this case, I'll take an extra half a pump to a full pump of conditioner and apply it to the underside of my hair.
I may also do the same to the canopy of my hair if it's looking a little frizzier.
I avoid adding extra curl cream or gel at this point because that's usually when my hair starts to feel too weighed down by product.
Results
Here, I'm going to break down my results!
I've also found that my refresh tends to last longer after a protein treatment, which I do once every 7-10 days.
Day 1 (wash day)
It's no surprise, but my hair always looks the best on wash day.
Day 2 (refresh)
My second day curls are a little softer and fluffier, but the definition is still pretty awesome and I can count on my hair looking like this pretty much all day.
It takes me about five minutes to refresh, ten to fifteen minutes for the products to soak in and dry, and then I'm good to walk out the door.
Day 3 (refresh)
My third day hair tends to be a touch frizzier, with some strands escaping from their curl clumps. But overall, the definition is still pretty great and I can totally go out in public.
Day 4 (refresh)
On this day, I skipped the curl cream because I was starting to get concerned about the product build up. Instead, I did 2 pumps of conditioner and the usual amount of gel.
Day 5 (refresh)
Again, I skipped the curl cream and just went with two pumps of conditioner and the normal amount of gel. It's starting to get a little frizzier and my curl clumps are starting to separate a little bit, but it's still totally wearable.
Looking for more guidance on your curly hair journey?
For beginners
If you're new to curly hair care and looking for some help, you should check out the No-Stress Guide to Curly Hair Care!
After spending two years learning and caring for my curly hair, I wanted to create my own, in-depth guide to help fellow curlies create incredible curls in the easiest way possible. 
It took me a while, but I eventually found an approach that helped me create a curly hair routine that fits into my life in the simplest way possible. And now I want to help you do the same!
For more intermediate/advanced guidance
If you've been on your curly hair journey for a while but still have some struggles, check out Curly Hair Problems!
After spending hours scouring the internet looking for solutions to my own curly hair problems, I found myself wishing for an easier, more comprehensive guide to the most common problems.
So that's what I created!
Curly Hair Problems offers you 78 total solutions to the five most common curly hair care problems, including frizz, curl clumps, limp curls, product issues, and scalp issues.
Sound off: What's your curly girl method refresh routine? Tell us about your tips and tricks in the comments! Be sure to tell us a little about your hair type too!