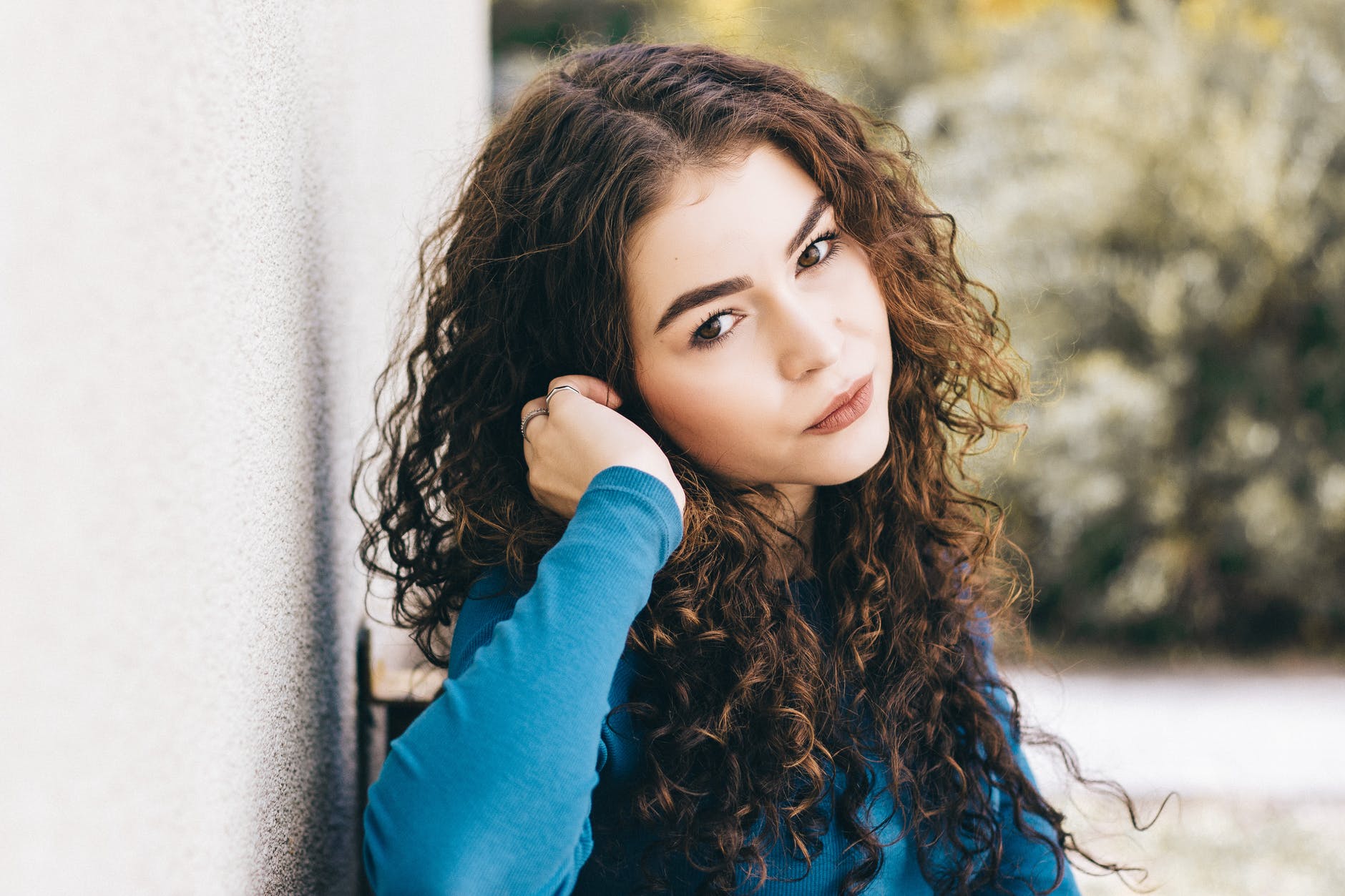 About four months ago, I shared my Curly Girl Method refresh routine. It took me a long time to find a curly hair refresh routine that worked for me, and since then I've been playing around to make it even better.
My biggest issue with my past routine was how heavy and product coated my hair would start to feel after the second day. After a few months of fine-tuning, I've modified my routine to fix that problem.
Here's my updated curly hair refresh routine!
Side note: This page does contain affiliate links, which means if you purchase something using the product links on this page, I may get a small commission. This comes at no extra cost to you and helps keep this site running. Thank you!
My History with refreshing
I went into this in more detail in my first post on refreshing. But just in case this is the first refresh post of mine you've stumbled upon, I thought I'd touch on it briefly.
It took me about a year and a half to find a refresh routine that worked for me.
I did a ton of research, and I tried a whole bunch of other curly girls' refresh routines, but no matter what I did, my hair was always frizzy second day and beyond.
As a result, I used to start every day with wet hair.
Then I made two key discoveries that made refreshing possible for me! And now I've modified things even more.
(I'll point these two discoveries out when we get into my routine.)
Wash day
I still follow the same hydrating wash day routine. However, at this point, I've updated some of my products.
My first conditioner to Suave Essentials Sun-Ripened Strawberry. My deep conditioner is now Jessie Curl Deep Conditioning Treatment.
You can read all about my updated wash day routine here.
I still use a fair amount of conditioner and several different types, because I've found that my hair needs that much moisture on wash day if I want to get a few refreshes out of it.
This is also where my first key discovery comes in. I found once I started using Cantu's Curl Activating Cream, my hair became A LOT more refreshable.
It does a really good job of keeping my curls in shape for days, which no other curl cream or product has done for me.
How I Sleep
I still sleep with my hair in a pineapple!
This still goes a long way in keeping my curls intact overnight. I typically wake up with defined but slightly frizzy hair.
For more on how to sleep with curly hair, check out this post!
Showering on refresh days
This much is the same as it's always been for me.
I still shower with a shower cap, then refresh my hair after my shower.
These disposable shower caps are still my favorites. They're made for single-use, but I find I can usually get several weeks out of one.
For what it's worth, I've tried using more expensive shower caps that were supposed to last longer, but they usually got stretched out and moldy pretty quickly.
In fact, in most cases, I find I'm actually able to reuse a single "disposable" shower caps longer than I could the reusable ones.
100 of these disposable caps are cheaper than one more sturdy cap, and you could get several years out of one pack.
I still shower with my hair still pineappled and covered with the shower cap.
After the shower, I take my hair down to refresh. At this point, I typically have pretty well-defined, but frizzier hair.
How I Refresh My Curly Hair
The biggest issue with my old refresh routine was the tacky, heavy product build up I'd get by day three and four.
When I set out to refine my routine, it was mainly to cut down on that problem and have hair that felt as good as it looked for more than one refresh.
The basic principles of this routine are the same, but the changes I've made have been enough to resolve this issue.
No water!
This element is the same!
I still don't wet my hair at all! This was the second key for me when I first figured out how to refresh and it still holds true!
I'd noticed in the past that as soon as I added water to my hair in an attempt to refresh it, my hair got immediately frizzer. I always hoped that when I gave my hair time to dry, the new frizz would go away, but it never did.
In fact, it was usually more frizzy post refresh than it was when I first woke up.
In all my research on refresh routines, I'd never come across a routine that skips rewetting entirely, which is why I always like to emphasize this.
I was so surprised when this worked for me.
A lot of people seem to need to dampen or rewet their hair, but if your experience sounds similar to mine, you might want to give this a shot!
Conditioner
Now I apply my Suave conditioner to my dry hair.
I use about a quarter size amount and focus mostly on the canopy and top layer.
Then I apply any remaining conditioner to the underside of hair, adding more to my hands as needed.
Then I gently scrunch a few times.
In the past, I've used my heavier Tresseme Botanique conditioner. But because it's heavier, I found that it was part of the cause of the build up on my hair.
Since I've switched to the lighter Suave, I've found no real product build up until day 4.
UPDATE 5/20/20: Lately I've been finding my regular conditioner is too heavy for my hair so I've switched to a designated leave in. My current favorite is Kinky Curly Knot Today (Find it at Amazon or Target). I've also enjoyed Aunt Jackie's Quench.
Curl Cream (only sometimes as needed)
If my hair is a little extra frizzy on a particular day, I'll add a small amount of Cantu Curl Activator Cream.
UPDATE 9/7/20: At this point, I've found that using both the curl cream and the leave-in weigh my hair down. So if my hair is drier, I'll ONLY use about a dime-size amount of the Cantu Curl Activator Cream and I'll skip the leave-in all together.
I apply this to my canopy only. This product can build up a little bit, and since that's something I'm specifically looking to avoid, I try to take it easy.
No Gel
I found that any additional gel strongly contributes to the tacky build up feel on my hair, so at this point, I skip it entirely.
This is probably the biggest change to my routine.
And that's literally my whole refresh routine! I typically get three days out of a wash (so wash day and two refresh days), but I can go for a fourth if I need to for one reason or another.
Results
Day 1 (Wash Day)
My hair still looks its best on wash day.
Day 2 (Refresh)
My second day hair is a little fluffier and frizzier, but the definition is still pretty much intact and makes it throughout the entire day.
Day 3 (Refresh)
My third day hair is a tad frizzier, but again, the definition holds up, and it's a look I can count on without the drying time.
Looking for more guidance on your curly hair journey?
For beginners
If you're new to curly hair care and looking for some help, you should check out the No-Stress Guide to Curly Hair Care!
After spending two years learning and caring for my curly hair, I wanted to create my own, in-depth guide to help fellow curlies create incredible curls in the easiest way possible. 
It took me a while, but I eventually found an approach that helped me create a curly hair routine that fits into my life in the simplest way possible. And now I want to help you do the same!
For more intermediate/advanced guidance
If you've been on your curly hair journey for a while but still have some struggles, check out Curly Hair Problems!
After spending hours scouring the internet looking for solutions to my own curly hair problems, I found myself wishing for an easier, more comprehensive guide to the most common problems.
So that's what I created!
Curly Hair Problems offers you 78 total solutions to the five most common curly hair care problems, including frizz, curl clumps, limp curls, product issues, and scalp issues.
Sound off: What's your curly hair refresh routine? Tell us about your tips and tricks in the comments! Be sure to tell us a little about your hair type too!