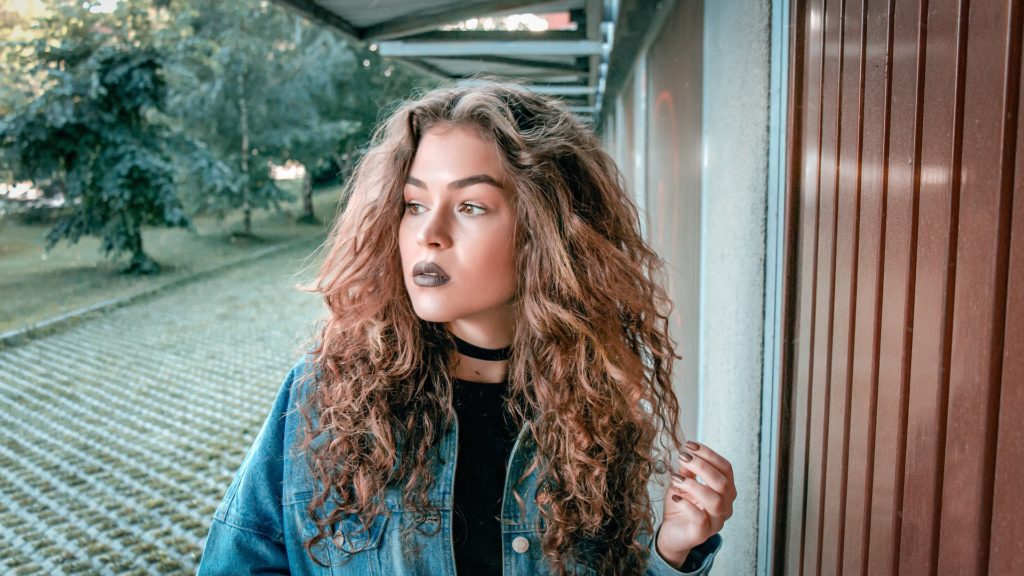 For anyone who is looking to give the Curly Girl Method a shot but doesn't know where to start, this one is for you!
This method will likely make your hair care routine easier once you get the hang of it, but in the beginning, it may feel like a bit of an undertaking.
(If you want to read about my experience with the Curly Girl Method, you can do that here!)
I would advise implementing steps 1, 2, and 3 from the start, but beyond that, don't be afraid to ease into things as you adjust.
Before we dive in, you might want to check out the basics of the Curly Girl Method in the Curly Girl 101 post, so you have some background before we get started.
Okay, you ready? Let's get to it!
This page does contain affiliate links, which means if you purchase something using the product links on this page, I may get a small commission. This comes at no extra cost to you and helps keep this site running. Thank you!
1) Get rid of old products
Go through all of your hair products and get rid of any products that have sulfates, silicones, drying alcohols, parabens, or mineral oils in them.
BUT! Keep one sulfate shampoo for now. You'll need it for step 3!
You can use Is It CG? to check your products, but odds are, most of them will have to go.
Also, get rid of any heated hair care tools. This includes curling irons, straighteners, or anything similar.
If you use a blow dryer, you may want to hang on to it to diffuse your hair. (More on this in step 10.) Just know you don't want to use the high heat setting anymore.
You also won't need any brushes or fine tooth combs, so if you have any of those lying around, you can either put them away or trash them. 
For more on why you want to get rid of these products, check out the Curly Girl 101 post.
2) Make sure you have Curly Girl Approved products to start with
Now it's time to select your new products!
You'll likely try new things over time, but for now, I'd suggest going with tried and true inexpensive curly curl cult favorites while your hair starts to get healthy.
If you're looking to start with just the essentials, consider purchasing a co-wash conditioner, a rinse out conditioner, and a gel.
You may also want to purchase a sulfate free shampoo, a deep conditioner, a leave-in conditioner, a curl cream, a blow dryer and diffuser, a wide tooth comb, and a microfiber towel, but I would say those things aren't completely necessary to get started.
For a breakdown of what these items do and some inexpensive starter products, check out this post on selecting your first curly girl products!
Some examples are linked throughout this post so you have an idea, but they are by no means the only options!
And again, you can also use Is it CG? to check any product to see if it's curly girl approved.
3) Final Sulfate Wash
Now we can really get started!
Before you use your new curly girl products, give your hair one final wash with that sulfate shampoo you saved from step one.
This step is really important because it gets rid of any silicone that may have built up from your previous product use, and you definitely want to get that crap out of your hair before you start the Curly Girl Method.
When you're finished with this wash, toss that sulfate shampoo!
Side note: If you found you didn't have any sulfate shampoo laying around, there no need to purchase a bottle for one use. You can use dish detergent for this step.
4) Co-washing
Now it's time for your first co-wash!
Massage a lightweight conditioner into your scalp, then rinse.
You don't need much conditioner. Just enough to get into your scalp and break up any dirt. 
It's also important to note that you'll likely have a transition period where your hair will be a little more greasy/oily than usual. This is because your scalp has likely been overproducing natural oil to compensate for the oil that's been stripped away by sulfates on a regular basis.
It'll take your scalp a few weeks to recognize the change in your routine and calm down.
It's also worth mentioning that if you've been very reliant on shampoo, you may prefer to ease into predominately co-washing by using a sulfate-free shampoo.
You can start with alternating between the two every other wash, then cut the shampoo back to every third wash, then every fourth wash, and so on.
Applying Sulfate-Free Shampoo/Co-wash
When you shampoo or co-wash, you don't want coat your hair. Instead, squirt some of the product on your fingers and massage it into the scalp.
This breaks up any dirt or build up. The drippings that run down your hair as you wash and rinse are enough to clean your hair.
5) Rinse out
Now it's time to grab your rinse out conditioner and condition your hair! You'll likely need a fair amount of conditioner in the beginning, but you'll need less as your hair gets healthier.
For more conditioner options, check out this post with 25 Curly Girl Conditioners!
Applying conditioner
Start with a palm full, then coat your hair in the conditioner, avoiding the scalp.  (Adjust the amount as needed).
The Curly Girl Handbook says it should be like icing a cake. Your hair should be completely saturated in conditioner, so it feels a little like sea weed.
When you reach this point, gently run your fingers through your hair and detangle. Pay special attention to the nape of your neck—that tends to get the worst tangles.
Then begin to work your fingers through your hair, detangling as you go. This is the only time you should be detangling or running anything through your hair.
Use your fingers or a wide tooth comb to work out any tangles. Work gently, from the bottom of your hair, up to scalp until your hair is tangle-free.
Then, when your hair is completely detangled, tip your head to the side or upside down, cup your curls in your hands, and scrunch them up to your scalp. You should hear the conditioner squishing.
This helps your hair absorb the moisture and encourages your natural curl pattern.
Leave the condition in your hair for the duration of shower, then rinse it out at the end. Make sure your scalp is conditioner free!
To really reduce frizz, you can end your shower by giving your hair a quick blast of cold water.
6) Remove excess moisture
After your shower, use a microfiber towel or t-shirt (not a regular towel!) to remove any excess water.
Cup your curls in the t-shirt/microfiber towel and scrunch once or twice, just like you did when you squished the conditioner into your hair.
You don't want to take out too much water, you just want to keep your hair from dripping.
One or two squeezes should do the trick.
7) Styling products
Leave in conditioner
It's a good idea to add some leave in conditioner to your hair before you add any more products–especially in the beginning when your hair is dryer.
You can use your rinse out conditioner as your leave in, or you can use a specific leave in/moisturizing conditioner.
Applying Leave-in
You'll have to play with the amount—it'll depend on the length of your hair and how damaged it is.
Start by splitting your hair into two sections and using a quarter-sized amount for each half. You can make alterations from there, based on what your hair needs.
Apply with your hair upside down or tipped to the side.
Alternatively, you can skip this step and simply stop short of rinsing out all of the conditioner when you're in the shower. (I tried this, but I kept ending up with conditioner on my scalp. However, you may have better luck!)
Creams/Mousse/Other (optional)
The drier and damaged your hair is, the more you may want to try a curl cream or other moisturizing product, and the more of the product you may need to use.
You'll likely find as your hair gets healthier, you'll either be able to use less of the product or do away with it altogether. 
Applying Creams/Mousse/Other Products
If you want to use a cream or some other styling product, I suggest splitting your hair in half, and (again) starting with a quarter size amount on each side.
Rub the product over your hands, then scrunch the product into your hair to encourage the curl pattern.
You can apply with your hair upside down or tipped to the side.
If you find it seems that scrunching is leaving uneven product distribution, try first coating your hair in product using praying hands, then scrunch.
Gel
Gel is the single most important styling product. You may want a hard hold or medium/hard hold gel, depending on your hair.
For hard hold, two inexpensive options are Aussie Instant Freeze and Tresemme Mega Sculpting Gel. For medium hold gel, try Biotera Styling Gel.
For more gel options, check out this post with 25 Curly Girl approved gels!
Applying Gel
Like with the cream and leave in, I suggest splitting your hair in half, and starting with a golf ball size amount on each side.
Rub the product over your hands, then scrunch to encourage the curl pattern. You can apply with your hair upside down or tipped to the side.
And again, if you find it seems that scrunching isn't enough, try first coating your hair using praying hands, then scrunch.
Once you worked the gel in your hair, straighten your head and tip it backward so you're looking at the ceiling. Shake your hair out gently so your hair falls naturally.
You may want to put a little more gel in your hands and gently run it over the top of your hair for added hold. (You can add this step later if your find you have some surface frizz).
Let your hair air-dry or dry with a diffuser. Do your best not to touch it while it dries.
When your hair is 100% dry, you should have a gel cast around your curls.
Tip your hair to the side or upside down again, and scrunch your hair until the gel cast is gone, and you're left with soft, frizz-free curls. (AKA "scrunch out the crunch.")
Deep Conditioner
It's usually a good idea to deep condition your hair once a week (or more in the beginning).
However, this is also a step you can add once you get used to everything else.
8) Hair Care
Because part of the curly curl method is avoiding heat, you definitely don't want to be using a straightener, curling iron, or blow dryer.
Air drying is best for this method, but if that just isn't practical, use a blow dryer ***with a diffuser*** on low.
Avoid towels. They take too much moisture out of your hair.
If you find your hair is dripping wet after you get out of the shower, use an old t-shirt or a microfiber towel to get rid of any excess water.
Avoid thin elastics. They can cause breakage. Instead, use cloth or satin scrunchies or coil ties.
Swap your regular pillowcase for a satin one. Traditional pillowcases take a little too much moisture out of your hair, and if your hair is on your pillowcase for 6-8 hours a night, that's a lot of time to let your hair dry out.
All of this may take some time in the beginning, but the longer you do it, the healthier your hair will get, and the less time/product you'll need.
Enjoy your fabulous curls!
Looking for more guidance on your curly hair journey?
For beginners
If you're new to curly hair care and looking for some help, you should check out the No-Stress Guide to Curly Hair Care!
After spending two years learning and caring for my curly hair, I wanted to create my own, in-depth guide to help fellow curlies create incredible curls in the easiest way possible. 
It took me a while, but I eventually found an approach that helped me create a curly hair routine that fits into my life in the simplest way possible. And now I want to help you do the same!
For more intermediate/advanced guidance
If you've been on your curly hair journey for a while but still have some struggles, check out Curly Hair Problems!
After spending hours scouring the internet looking for solutions to my own curly hair problems, I found myself wishing for an easier, more comprehensive guide to the most common problems.
So that's what I created!
Curly Hair Problems offers you 78 total solutions to the five most common curly hair care problems, including frizz, curl clumps, limp curls, product issues, and scalp issues.
Sound off: What's your favorite part of the curly girl method? What's your biggest struggle? Tell me about it in the comments!