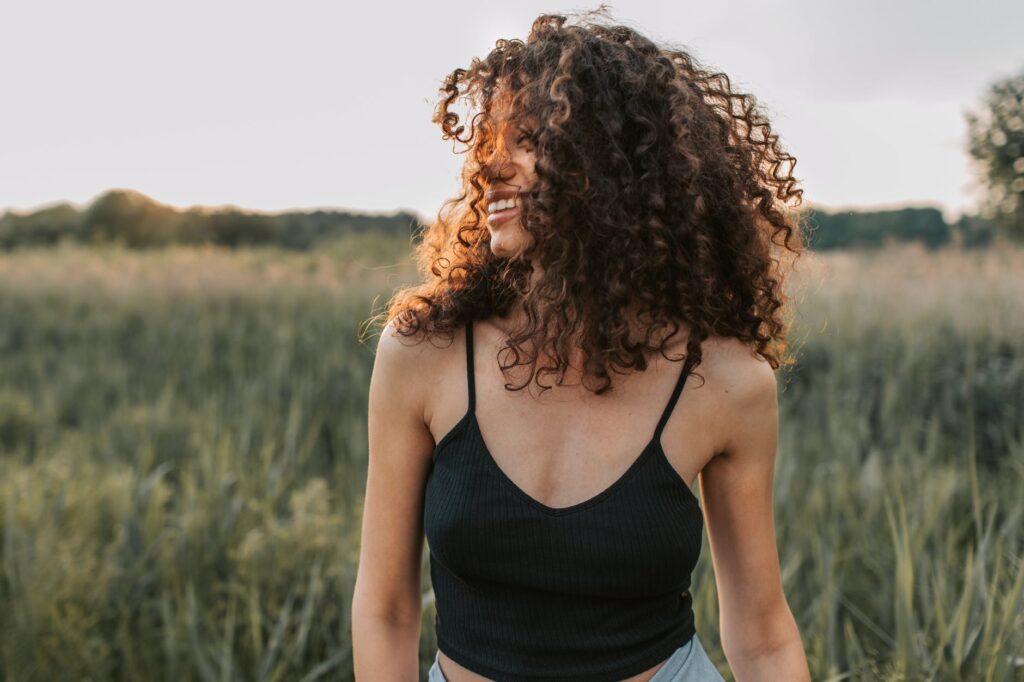 Today I'm sharing the curly hair products I use on a regular basis! These products are all curly girl approved, but you don't have to be following the curly girl method to get great results!
Of course, this is based on my experience, based on my 3a/3b hair type. Your results may be different.
It's also important to note that prices on these products fluctuate, especially online. I'm linking to Amazon because it's the most accessible for most people, but it wouldn't hurt to shop around.
Here are the 7 curly hair products I use every day.
Side note: this page does contain affiliate links, which means if you purchase something using the product links on this page, I may get a small commission. This comes at no extra cost to you and helps keep this site running. Thank you!
As someone with dry scalp, this is far and away my favorite shampoo. It does a great job removing dirt and product build-up, without drying my scalp out.
It also helps to keep my scalp from flaking when I combine it with an olive and coconut oil prewash scalp treatment.
However, keep in mind this is a sulfate-free shampoo, so if you're not following the curly girl method and using products with silicone, this likely won't be enough to remove product build-up for you.
This is a curly girl classic that's been with me since the beginning of my curly girl journey. It's a super lightweight conditioner, so if you're a wavy, or just don't need a ton of moisture, this may work as a stand-alone conditioner for you.
Personally, I use this conditioner to detangle my hair and prep it for my rinse-out conditioner. Any of the scents work great and it's always incredibly affordable.
You can get it on Amazon here.
This conditioner is absolutely AMAZING at moisturizing my hair! It leaves my curls clumped, plump, and hydrated for days!
It can also be used as a leave-in conditioner if you're using one.
You can read my full review of this conditioner here.
And you can find it on Amazon here!
I freaking LOVE this protein deep conditioner! This product smells amazing and absolutely melts into my hair! (I know I've said this in the past when I've talked about this product, but it's true!)
Of course, because it's a deep conditioner, I don't use this every day. But I use it regularly enough to include it in this list.
It's a good idea to add some protein to your hair from time to time. How often you'll need to do this will depend on your unique hair. You can read more about why protein is important for curly hair here.
You can read my full review of this product here!
And you can get it on Amazon here!
This has been my go-to curl cream for YEARS. It creates curls that last for days, and it's the product I credit with my ability to refresh my hair.
A little goes a long way with this, so one bottle should last you a good while.
You can read my full review here.
And you can get it on Amazon here.
This is another one of my curly hair products that has stood the test of time for me! I came across it early in my curly girl journey. It wasn't quite right for where my hair was early on, but I tried it again a few months in and it has been the best gel my hair has ever known.
I keep trying new gels, wondering if it can get any better. And while few have been good enough to use under the right circumstances, nothing has ever surpassed this gel for me.
It has a soft, flexible hold that lasts for days and is easy to break up the cast.
You can read my full review here.
And you can get it on Amazon here.
When I styled with a leave-in conditioner regularly, this was my absolute favorite. It's very lightweight so it's great at packing moisture without weighing your hair down.
These days, it's my go-to product to refresh my hair in between washes. At this point, all I do is smooth about a quarter-sized amount over my hair. It's enough to smooth any frizz or flyaways without adding weight or build-up.
You can read my full review of this product here.
And you can get it on Amazon here.
Looking for more guidance on your curly hair journey?
For beginners
If you're new to curly hair care and looking for some help, you should check out the No-Stress Guide to Curly Hair Care!
After spending two years learning and caring for my curly hair, I wanted to create my own, in-depth guide to help fellow curlies create incredible curls in the easiest way possible. 
It took me a while, but I eventually found an approach that helped me create a curly hair routine that fits into my life in the simplest way possible. And now I want to help you do the same!
For more intermediate/advanced guidance
If you've been on your curly hair journey for a while but still have some struggles, check out Curly Hair Problems!
After spending hours scouring the internet looking for solutions to my own curly hair problems, I found myself wishing for an easier, more comprehensive guide to the most common problems.
So that's what I created!
Curly Hair Problems offers you 78 total solutions to the five most common curly hair care problems, including frizz, curl clumps, limp curls, product issues, and scalp issues.
Sound off: What are some of your favorite curly hair products? Bonus if they're curly girl approved! Be sure to tell us a little about your hair type too!