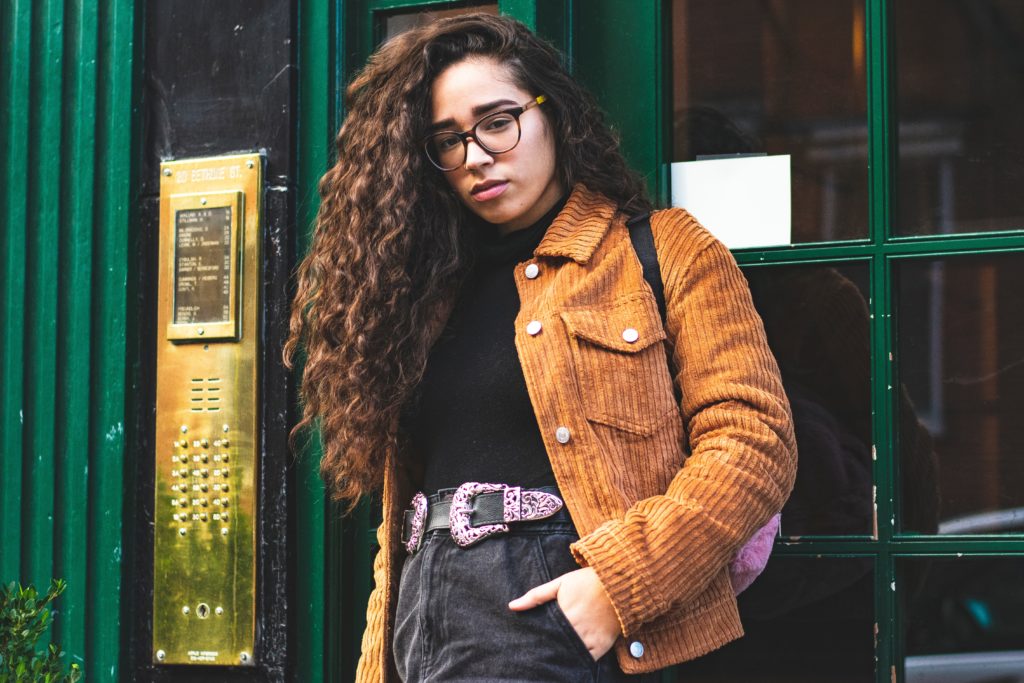 If you're looking to dive into the Curly Girl Method as quickly and easily as possible, this is the post for you!
One of the early posts on this blog was a full breakdown of how to start the Curly Girl Method. That post was twelve steps long and covered the ins and outs of all things curly girl and the different options you might want to consider.
Everything in that post is true, but it's also a lot to take in and implement at once. So I wanted to create a guide designed to simplify the Curly Girl Method for anyone who would rather ease into the routine. Then you can add on as you see fit.
If you want a more comprehensive post or if you're ready to add on, you can check that out here. If you're looking to dive in as quickly and easily as possible, keep reading!
This page does contain affiliate links, which means if you purchase something using the product links on this page, I may get a small commission. This comes at no extra cost to you and helps keep this site running. Thank you!
What to Avoid
You want to avoid products that have sulfates, silicones, and drying alcohols. They all contribute to hair damage and/or moisture reduction. (And moisture is key in helping curls curl and stay frizz free.)
You also want to avoid heat, as that also dries your hair out. This means no more heated styling tools, blow dryers on high heat, or hot showers. But warm showers are good! You don't want to be uncomfortable.
There are other ingredients you might want to avoid later, but these are the essentials to get you started. For a more detailed breakdown on why you want to avoid these elements, check out the Curly Girl 101 post.
Products
Next, you need to get rid of all of your hair products that have sulfates, silicones, and drying alcohols in them. Odds are, this will be most of your hair products.
But you will need to keep one sulfate shampoo for the next step.
You can use IsItCG.com to help you sort through your products. However, some of your products may come back as not approved for reasons other than sulfates, silicones, and drying alcohols.
It's up to you if you want to care about that at this point.
Once you've gotten rid of your old products, you'll need some new ones! Because this is a quick start guide, we're going to keep this simple and cheap!
Starter products I recommend are: Cantu Cleansing Cream Shampoo (if you want a shampoo–more on that in a second), Suave Essentials Topical Coconut Conditioner, and Aussie Instant Freeze Gel. These might be cheaper at Target or someplace like that, so you might want to check your local store before ordering online.
If you want more beginner products, check out this post!
Final Wash
Now that you've got everything you need, give your hair one final wash with a sulfate shampoo. This will get rid of any old non-curly girl approved product build up and give you a clean canvas to work with.
This step is important! Don't skip it!
Co-Wash/Wash
Now you're ready to really start following the curly girl method!
One key element to this method is very little (if any) shampooing. Curly hair typically does best if it's washed less. The Curly Girl Handbook recommends scrubbing the scalp with conditioner (aka co-washing) and forgoing shampoo altogether.
If you're easing into the Curly Girl Method, you may want to start using a sulfate free shampoo every other day and cut back until you only wash every few days or once a week.
Alternatively, you can dive right in, ditch the shampoo, and co-wash. It's your call.
Whatever you decide, you don't need much shampoo/conditioner. Just enough to work through your scalp.
It's important to only wash and massage the scalp at this step. Any shampoo/conditioner that runs down your hair will be enough to clean it.
Condition
Next, it's time to condition your hair! This is also a staple of the Curly Girl Method.
You'll likely need a lot of conditioner in the beginning since most curly hair is too dry. It's likely you'll need a whole palmful or more.
Coat the surface of your hair in the conditioner, then gently work the conditioner through your hair. Use your fingers to detangle your hair as you go, paying special attention to the nape of the neck, which usually gets tangled.
Once your hair is loaded in conditioner, cup your curls in your hands and scrunch your hair up towards your scalp to encourage your hair to curl.
Leave the conditioner in your hair for the rest of your shower, then rinse out.
If you're using the Suave Essentials as a co-wash, you can use it as your rinse out conditioner too.
But if you're a few weeks in and feel like your hair may need more moisture, you might want to try something a little heavier, like Tresemme Botanique for your rinse out.
Style
Moisture
Retaining and adding moisture to help your curls curl is an important part of styling.
Gently scrunch your hair up toward your scalp and squeeze any excess water out of your hair. (You don't typically need your hair to be dripping wet.)
You can do this with your hands, or with a t-shirt or microfiber towel in place of a traditional towel. Regular towels remove a little too much moisture and can cause frizz, so it's best to avoid them.
Now it's time for products! It's typically best to apply your products right after your shower so you can lock in as much moisture as possible.
Tips your head to the side or upside down.
You'll likely want to add a little extra conditioner to your hair first. This can be the same conditioner you used as your rinse out conditioner.
Take about a quarter size amount and either scrunch in through your hair or spread it through your hair using the praying hands technique (which is discussed more in my Hair Routine post.)
You may have to adjust the amount you use based on your hair type. If your hair is frizzy, add more conditioner. If it's weighed down, cut back.
Alternatively, you can leave some of the conditioner from your shower in your hair instead of rinsing out completely.
Gel
Now it's time for gel! Gel is the key styling product of the Curly Girl Method.
With your head still tipped over, split your hair into two sections (you can probably get away with one if your hair is shorter). Then take about half a palmful of gel per side and apply by either scrunching the gel in or using the praying hands technique.
Then scrunch to encourage the curl.
Tip your head right side up and give your hair a little shake so the curls can fall naturally.
Down the line, you might want to add another styling product before you apply gel for more moisture and curl, but for now, we're sticking to the basics!
Dry
It's typically best to let your hair air dry, and to avoid touching your air while it dries.
If air drying isn't an option, you can use a blow dryer on low with a diffuser attachment to speed things up.
Once your hair is completely dry, you should have a gel cast coating your curls. Tip your head to the side/upside down and, using your hands or a t-shirt, scrunch your hair to your scalp to break up the gel cast.
Your curls should be soft, hydrated and frizz free!
Care
Sleeping on a satin pillowcase will reduce the amount of moisture pulled out of your hair overnight and help cut down on frizz.
For more frizz control, think about giving your hair a blast of cold/cool water before you get out of the shower. This closes the hair cuticle so your hair holds moisture better.
It's also a good idea to use cloth or satin scrunchies or coil ties instead of the thick elastic hair ties, which can lead to breakage.
Overall, make it your goal to be as gentle with your curls as possible and avoid pulling, squishing, or handling your hair roughly.
Final thoughts
I love the Curly Girl Method and I love how my hair has transformed as a result. But with that said, this Method shouldn't be something you stress about.
This guide was designed to be the bare-bones essentials, but if you need to go even slower and add one step at a time, that's totally fine!
It's also worth noting that you may go through a transition period where your hair is oily in the beginning. This is normal and it should go away within 3-4 weeks as your hair gets used to this new regimen.
And if you decide to strictly co-wash, you still may want to keep some sulfate-free shampoo on hand for an occasional wash to get rid of any product that builds up over time.
Looking for more guidance on your curly hair journey?
For beginners
If you're new to curly hair care and looking for some help, you should check out the No-Stress Guide to Curly Hair Care!
After spending two years learning and caring for my curly hair, I wanted to create my own, in-depth guide to help fellow curlies create incredible curls in the easiest way possible. 
It took me a while, but I eventually found an approach that helped me create a curly hair routine that fits into my life in the simplest way possible. And now I want to help you do the same!
For more intermediate/advanced guidance
If you've been on your curly hair journey for a while but still have some struggles, check out Curly Hair Problems!
After spending hours scouring the internet looking for solutions to my own curly hair problems, I found myself wishing for an easier, more comprehensive guide to the most common problems.
So that's what I created!
Curly Hair Problems offers you 78 total solutions to the five most common curly hair care problems, including frizz, curl clumps, limp curls, product issues, and scalp issues.
Sound off: What part of the Curly Girl Method are you most excited about? What part are you the most uncertain of? Tell us about it in the comments!