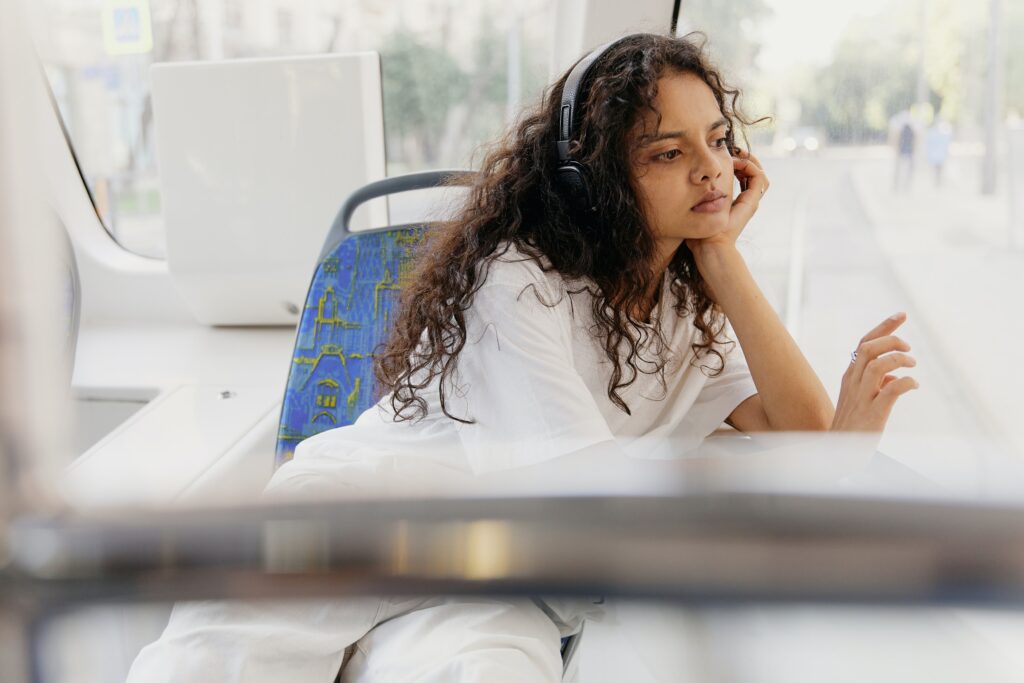 This post has everything you need to start the Curly Girl Method as quickly and easily as possible all in one place!
It's designed to get you started on the Curly Girl Method without overwhelming you with information. You'll get the basics of product selection, how to get started, a simple curly hair routine, plus tips on drying and sleeping with your curls.
You'll also find links to more in-depth posts if you want more information.
Here's what you need to know to quickly start the Curly Girl Method!
Please note: this page does contain affiliate links, which means if you purchase something using the product links on this page, I may get a small commission. This comes at no extra cost to you and helps keep this site running. Thank you!
Products
Products are such a core component of the Curly Girl Method. So, before you can really start, it's a good idea to get your products in order.
Let's take a look at what products to get rid of, what products to keep, and what products to buy.
What to get rid of
To follow Curly Girl Method in its purest form, you'll want to get rid of products that include sulfates, silicones, or drying alcohols.
If you want a complete breakdown on why these ingredients aren't good for your hair, check out this Curly Girl 101 post. But if you want to keep things super simple for now, just know these are ingredients to avoid.
Some people also avoid other ingredients, but personally, I'd say you only have to add to this list if you find a certain ingredient builds up in your hair.
You can use isitcg.com to check your products and see if they're Curly Girl approved, but be sure to see the note at the end of this post before you do.
What should you do with the products you get rid of?
That's up to you. If you're ready to be super committed, you can trash them. If you're just testing the waters, stick them in the back of a cabinet or closet. This way if you decide the Curly Girl Method isn't for you and you want them back, they're there for you.
What to keep
If you have any products you have that don't have sulfates, silicones, or drying alcohols, you can hang on to those!
These products can be the basis of your new Curly Girl Approved collection.
Additionally, you should also keep one sulfate shampoo–you'll need it for the very beginning of the Curly Girl Method, which we'll talk more about in the next post.
What to buy
If you find that you're short on products after going through what you already had, you're going to need to get yourself some more.
Naturally, you'll want products that don't have sulfates, silicones, or drying alcohols. Once again, you can use isitcg.com to help you pick out products without these ingredients.
However, it's worth noting that your products may have water-soluble silicones (which usually start with PEG- on an ingredient list) or moisturizing alcohols (like Cetearyl alcohol and Cetyl alcohol).
So if you find you're noticing that products with these ingredients are approved, that's why. When we say we're avoiding silicones and alcohols, we just mean the ones that dry out and build up on your hair.
I found it helpful to do my research and pick out my products before I headed to the store.
For some great, tried and true starter products, check out this post!
These products are favorites of the Curly Girl community and they're very affordable, which is especially helpful at the beginning when your hair is dryer and you will likely need to use a fair amount to get enough moisture.
You also may want to take a look at this post which has some of the most common Curly Girl terms that might come up throughout this series.
Final Wash
Before you can really start the Curly Girl Method, you'll need to wash your hair with sulfates one final time.
Ideally, you'll be able to use that sulfate shampoo you saved from earlier. If it turned out you didn't have any sulfate shampoo, see if anyone else you live with does. If that's not an option, grab some dish soap. This is going to be pretty harsh on your hair, but it's not worth buying a sulfate shampoo for one wash.
This step is really important! This final wash will help ensure that your hair is free of silicones and other heavy products before you switch to a sulfate-free life.
This is not a step to skip. It can result in silicone and product build-up on your hair, which can make your hair frizzy, weighed down, and ultimately lead to damage. (Seriously, I tried to skip this step. It wasn't a good call.)
Once you're in the shower and your hair is washed, it's time for a new simple hair care routine!
Simple Routine
The goal here is to make things as simple as possible. You'll likely have to add to this or modify it to meet your unique needs and hair, but this should give you an easy, accessible place to start.
Before you even get in the shower, consider turning down the temperature. Remember, we're trying to avoid heat, so if you take a hot shower this is going to work against you. Your shower can be warmer, though–you don't want to be uncomfortable.
1) Sulfate-Free shampoo (if you want to ease into things) or cowash (if you don't)
Naturally, you won't need this after your final wash, but this step is something to consider for washes going forward.
The Curly Girl Handbook advocates Co-Washing only (i.e. "washing" your scalp with only conditioner). If you want to dive right in and co-wash, go for it!
But if you're someone who can't quite get behind abandoning shampoo completely, or you're looking to ease into the Curly Girl Method and work up to a no-poo life, you can wash your scalp with a sulfate free shampoo. (Again, you can find some options in this post with some starter products.)
2) Condition, detangle, and scrunch
Once your scalp is clean, it's time to condition!
Take a healthy palmful of your sulfate/silicone/drying alcohol-free conditioner and spread it over the surface of your hair.
Then, gently work your fingers through your hair from the bottom up, detangling as you go. Add more conditioner as needed.
Your hair should be fairly saturated. It's commonly said that if your hair feels like seaweed, you know you have enough conditioner.
When your hair is detangled, tip your head to the side or upside down, cup your curls in your palms, and scrunch them toward your scalp a few times to encourage the curl pattern.
3) Let it sit in your hair while you shower. Rinse.
Let your hair soak up the conditioner while you finish the rest of your shower. Rinse the conditioner out at the end.
Side note: Some curly girls benefit from leaving some of the conditioner in their hair, instead of rinsing completely. If you find your hair ends up on the drier side, you can give this a shot.
4) Dry with a t-shirt (not a towel)
We're going to spend some of the next post talking all about drying options, but for now we'll keep things simple.
Ditch your towel, and use a t-shirt instead. Towels create too much friction and remove too much moisture from curly hair, which is why t-shirts are a better option.
Tip your head forward or to the side, then gather your curls in the t-shirt and scrunch up (just like you did when you were conditioning). You can do this a few times to remove excess water so your hair isn't dripping wet.
5) Style with gel
Next, it's time to style!
Take a palmful of your new silicone and alcohol free gel and smooth it over your hands. Then, tip your head upside down, and scrunch the gel upward through your hair, just like you did in the shower.
If you found your hair was fairly frizzy with this approach, you may want to smooth the gel over your hair from top to bottom with your hands sandwiching your hair (as if your hands are in prayer) before you scrunch.
And just as a reminder: This is a basic starter routine, but you may need to modify/add products as you learn your hair better. Here's a link to one of my early curly girl routines to give you an idea of changes you might want to make.
A lot of Curly Girls only wash and wet their hair a few times a week, and refresh their hair in between washes.
Personally, I didn't have a lot of success refreshing until I was farther into the process, so I co-washed (or at least wet and conditioned my hair) every day.
But you may want to try refreshing early on, which is why I'm mentioning it here.
Drying curly hair
This section is going to cover the dos and don'ts of drying as you care for your curly hair.
What not to do
Earlier in this post, we talked about how avoiding heat is a key component of the Curly Girl Method. Curls thrive when they're moisturized, and heat fries curls and dries them out.
Because of this, you're going to want to ditch your blow dryer–at least, in the traditional sense.
We'll discuss what you can use it for in a moment.
For now, just know if you're used to using your blow dryer as it is out-of-the box (i.e. without a diffuser and on a high heat setting) this is going to change.
And like we touched on, you're going to want to avoid using towels since they take away too much moisture.
What to do
Use a T-Shirt or Microfiber towel
If you're not using a towel, you may want to use something so your hair isn't dripping wet. I find I get the most success when I just scrunch and squeeze the moisture out of my hair, but that doesn't work for most people.
If you're in need of a towel replacement, try a t-shirt! Cotton absorbs less moisture than regular towels and you likely have one you can use laying around your house.
But if you're very much a towel person and not in love with the idea of using a t-shirt, you can try a microfiber towel. This has a more towel-like texture, but takes less moisture out of your hair.
Diffuse
You can use your blow dryer with a diffuser on a lower heat setting and lower air flow. The lower heat keeps your hair from getting dried out, and the lower air flow, combined with the diffuser holds your hair in place to reduce friction, which will help reduce frizz.
Air dry
Air drying is the most Curly Girl friendly method, but that may not be practical for everyone. (Sometimes, you have places to be!) However, if you have the time and space, you might want to consider giving it a chance if/when you can.
Root volume
One problem a lot of curly girls have–especially in the beginning–is getting enough root volume in their hair.
This is typically because early on, your hair needs a little extra moisture in the form of product. The added product can weigh it down a bit, which may leave the crown of your head looking a little flat.
Two things that help with this are to either diffuse, or clip your hair up while it dries. This post goes into everything you need to know about getting root volume as your hair dries.
Sleeping with curly hair
Why you should consider sleeping with your hair protected
Sleeping with your hair in a particular protected style is important when you care for your curly hair. This does a few things for curly hair.
First, if you're going to skip wetting your hair the next day and try to refresh it, you'll likely want to sleep in a way that keeps your curls as intact as possible. Sleeping in one of the following styles can help keep your curls in some kind of shape, so you can simply reduce frizz and gently revive the definition the next day.
Second, it reduces friction and moisture loss, which, as we've covered previously in this series, can help you get a better, healthier curl.
How to sleep with curly hair
I have a whole post about how to sleep with curly hair, which discusses the styles below. But this can give you a place to start.
Tools
A satin pillowcase/scarf
Sleeping on a satin pillowcase or wrapping your hair with a satin scarf can help your hair retain more moisture and reduce friction. It's a smoother surface than a traditional cotton pillowcase and it pulls less moisture from your hair.
Styles
Pineapple
Gather your curls on top of your and use a scrunchie to loosely secure them. This should keep you from sleeping on your curls and prevent you from crushing them as you sleep.
Bun
If your hair is really long, you may want to sleep with a bun on top of your head instead. It may take some of the curl out, but it'll still be easier to bring back than if you ended up sleeping with your hair under your head.
Braid
If you're less concerned about preserving the curl itself for the next day, a braid might be the way to go. This secures your hair, which prevents it from rubbing against your pillow too much and reduces friction. This will ultimately help minimize breakage and moisture loss.
For more, you can find the blog post about how to sleep with curly hair here.
Side note: The blog post has an option for shorter hair, however, if your hair is too short for any option, it's not a crisis. Sleep with down/however's comfortable (though ideally with some of the tools covered in this post).
If this applies to you, you may have to wet or dampen your hair on a more regular basis, but if your hair is that short, it likely won't take as long to dry either.
Looking for more guidance on your curly hair journey?
For beginners
If you're new to curly hair care and looking for some help, you should check out the No-Stress Guide to Curly Hair Care!
After spending two years learning and caring for my curly hair, I wanted to create my own, in-depth guide to help fellow curlies create incredible curls in the easiest way possible. 
It took me a while, but I eventually found an approach that helped me create a curly hair routine that fits into my life in the simplest way possible. And now I want to help you do the same!
For more intermediate/advanced guidance
If you've been on your curly hair journey for a while but still have some struggles, check out Curly Hair Problems!
After spending hours scouring the internet looking for solutions to my own curly hair problems, I found myself wishing for an easier, more comprehensive guide to the most common problems.
So that's what I created!
Curly Hair Problems offers you 78 total solutions to the five most common curly hair care problems, including frizz, curl clumps, limp curls, product issues, and scalp issues.
Sound off: How did your start to the Curly Girl Method go? Tell us about it in the comments. And be sure to tell us a little about your hair type!