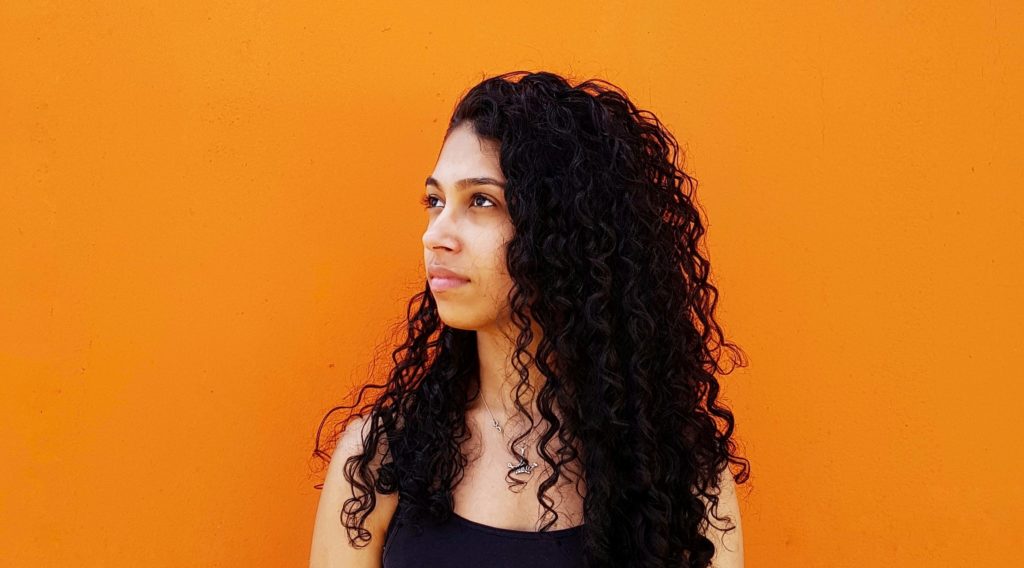 This post is for anyone looking to make the Curly Girl Method as simplified as possible!
If you're just getting into the Curly Girl Method, you may find yourself a little overwhelmed with the amount of information and guidelines out there.
But the thing is, the Curly Girl Method doesn't have to be hard or complicated.
Today, we're going to look at the absolute bare minimum information you need to know and the minimum products and tools you need to have on hand for a simplified version of the Curly Girl Method.
Side note: This page does contain affiliate links, which means if you purchase something using the product links on this page, I may get a small commission. This comes at no extra cost to you and helps keep this site running. Thank you!
What to avoid
If you're diving into the Curly Girl Method, you may have found a long list of ingredients and situations to avoid.
And while some people may see benefits in being that strict, that's actually a lot more complicated than the Curly Girl Method needs to be.
So, if we're talking about Curly Girl Method simplified guidelines, it all comes down to avoiding sulfates, silicones, drying alcohols, and heat.
The ultimate goal is to avoid anything that strips your hair of moisture. Sulfate, drying alcohols and heat all do this in their own way.
Silicones don't directly remove moisture, but they're a contributing factor. They coat the hair to reduce frizz, however they require a sulfate to wash them out.
Before you toss your sulfate shampoo, do one "final wash" with it to get rid of any silicones you may have in your hair from previous products.
As far as heat goes, this translates to ditching the blow dryers and heated styling tools, and turning the temp down in the shower. You don't have to be uncomfortable, but go for warm water instead of hot.
Since we're keeping things simple today, we'll end the explanation there. If you want a more in-depth explanation, of these elements, check out the Curly Girl 101 post.
If you find other ingredients build up on your hair and you need a sulfate shampoo to come clean, you may want to add those ingredients to your list.
But according to The Curly Girl Handbook, avoiding sulfates, silicones, drying alcohols, and heat are the only guidelines you really have to follow.
Products you need
Co-wash
A lot of curly girls skip shampoo entirely and "wash" their scalp with a lightweight conditioner instead. This is called co-washing.
Take about a quarter-sized amount of conditioner and massage it into your scalp. Then rinse.
A popular inexpensive co-wash is Suave Essentials Tropical Coconut.
Rinse out
Next, condition your hair from the middle of the hair shaft down with a heavier conditioner.
You'll likely need a lot in the beginning (at least a palmful). Coat the hair like you're icing a cake, then gently detangle the hair from the bottom, and work your way up.
When you're finished, scrunch up to encourage the curl pattern.
You want your hair to be pretty saturated, so apply more conditioner as you need to. You can leave the conditioner in for the rest of your shower, then rinse out.
Additionally, you may want to leave some of the conditioner in your hair when you rinse, for added moisture, but you'll have to play around with it.
A popular inexpensive rinse out conditioner is Tresemme's Botanique conditioner.
Worth noting: a lot of curly girls co-wash with their rinse out, so if you're going for and extreme version of the Curly Girl Method simplified, you can cut the designated co-wash conditioner and see how that works for you.
Gel
Gel is what will help keep your curls in shape and moisture locked in throughout the day.
To apply, take about half a palmful of gel spread it over your hands, then smooth it over your hair with your head tilted to the side or upside down. Then scrunch up to encourage the curl pattern.
Your hair may need more or less gel than this, so you'll have to experiment with the amount.
An inexpensive gel is Eco Styler's Olive Oil Styling Gel.
Products you may want
These are some products that you might want to include based on your hair type and hair needs.
If you're just starting the Curly Girl Method and want to keep things as simplified as you can, you can jump to the "Tools for Care" section and come back to this if you need it.
Sulfate-Free Shampoo
If you can't seem to get your hair clean with just cowashing, you may want to use a sulfate-free shampoo instead.
You'll use this in place of your co-wash, but follow the same technique.
A good inexpensive sulfate-free shampoo is Cantu's Cleansing Cream Shampoo.
Leave-in conditioner
If you find that your hair doesn't make it through the day without getting dry and frizzy, you might want to add a little leave-in conditioner to your hair before you apply gel.
You can buy a designated leave in conditioner, but I personally use a little of my rinse out conditioner. And since we're keeping things simple, that's probably the best place for you to start!
Alternatively, you can leave some of the conditioner in your hair when you rinse, like we touched on before.
Cream
If, after adding some leave in conditioner, you still find that your curls are struggling with moisture and definition, you may want to add a curl cream.
This can be done in addition to the leave in conditioner or in place of it. Whichever works best for you.
My favorite curl cream is Cantu's Curl Activator, which you can read more about here.
Tools for care
In order to help your hair look it's best, there are some basic tools you should consider introducing to your care routine.
Again, we're keeping it simple, so here are three things you should probably get, and the one thing you might want.
T-Shirt
Ditch your towel and dry your hair with a t-shirt instead. Towels absorb too much moisture, which makes curly hair frizz.
If you're a big fan of towels, you can get yourself a microfiber towel, which has a similar effect to a t-shirt. But if you're looking to keep it simple, the t-shirt will absolutely get it done.
Scrunchies
Swap out your hair elastics for cloth scrunchies. They're more gentle on your hair, lead to less breakage, and help keep your curls intact.
And all things considered, it's a pretty easy change to make.
Satin pillowcase or scarf
Standard pillowcases, like standard towels, absorb too much moisture from curly hair. This makes it dry out and frizz.
Instead, consider swapping your cotton pillowcase out for a satin one, or wrapping your hair in a satin scarf before you to bed.
Diffuser
To keep things super simple, you can let your hair air dry and call it a day.
But if that doesn't work for you and your lifestyle, you'll want a diffuser for your blowdryer. Just make sure you keep the heat and hair settings on the medium to low side of things.
Looking for more guidance on your curly hair journey?
For beginners
If you're new to curly hair care and looking for some help, you should check out the No-Stress Guide to Curly Hair Care!
After spending two years learning and caring for my curly hair, I wanted to create my own, in-depth guide to help fellow curlies create incredible curls in the easiest way possible. 
It took me a while, but I eventually found an approach that helped me create a curly hair routine that fits into my life in the simplest way possible. And now I want to help you do the same!
For more intermediate/advanced guidance
If you've been on your curly hair journey for a while but still have some struggles, check out Curly Hair Problems!
After spending hours scouring the internet looking for solutions to my own curly hair problems, I found myself wishing for an easier, more comprehensive guide to the most common problems.
So that's what I created!
Curly Hair Problems offers you 78 total solutions to the five most common curly hair care problems, including frizz, curl clumps, limp curls, product issues, and scalp issues.
Sound off: How simple do you like the curly girl method to be? Tell us about it in the comments, and make sure to tell us about your hair type.